Kenya and China Launch Photo Exhibition to Mark 50 Years of Diplomatic Relations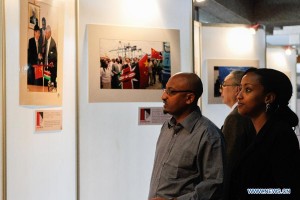 The Chinese Embassy in Kenya, Xinhua News Agency Africa Regional Bureau and sponsors Shengli Construction Company of Sinopec have launched a seven-day photo exhibition to mark the 50th anniversary of diplomatic relations between China and Kenya.
The exhibition was officially opened by the Chinese Ambassador to Kenya Liu Guangyuan, Kenya's Cabinet Secretary for Information, Communication and Technology Fred Matiang'i, Director of Xinhua News Agency Africa Regional Bureau, Yuan Bingzhong and General Manager of Shengli Construction Company of Sinopec, Han Yudong at a ceremonial ribbon cutting event on Monday.
It features over 70 photos highlighting cooperation between Kenya and China across several sectors including trade, education, culture and science from 1963 to 2013.
Speaking during the ceremony, Fred Matiang'i noted that Kenya has had a consistent diplomatic relationship with China for the last 50 years.
"Fifty years ago, on the second day of the founding of the Republic of Kenya, China and Kenya set up the diplomatic relations. Ever since then, China and Kenya have been good friends and the relationship becomes better and better day by day," he said.
"The photo exhibition tells many stories about this relationship. This wonderful relationship and the great ties that our two countries have can only get better…
"The photo exhibition is one good way to tell people and educate people to do something for our friendship with China," Matiang'i added.
He also commended the Chinese media for their efforts in promoting diplomatic relationships between the two countries. All the photos being displayed at the exhibition were reportedly taken by journalists from Xinhua News Agency.
The News Agency's Africa director said, "Fifty years ago, Xinhua sent reporters to Kenya and currently we have nearly 30 reporters stationed in the country. We believe the news media has a responsibility to promote welfare of people."
Chinese Ambassador to Kenya, Liu Guangyuan acknowledged the "fruitful achievements" that the two countries have attained in various fields of mutual cooperation, adding that the two countries were determined to pursue "peaceful development and shared prosperity".
The recently launched exhibition is part of an ongoing series of events to celebrate 50 years of diplomatic relations between Kenya and China. On Friday, Kenya's Deputy President William Ruto and the special envoy of Chinese President Xi Jinping, Wan Exiang attended another celebration at the Chinese Embassy in Nairobi. During this event, both leaders reiterated their commitment to bilateral cooperation in infrastructure development, education, health, energy and agriculture.
Photo: Guests look at photos during the opening of the seven-day exhibition to mark  50 years of diplomatic relations between Kenya and China.[Xinhua]