Kenya Secures Place in CECAFA Cup Semi Finals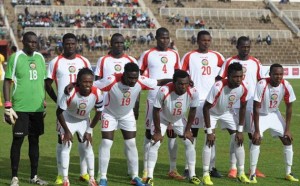 The Kenyan national football team has secured its place in the semifinals of the GOTV CECAFA Senior Challenge following a 1-0 win over Rwanda in a match played at the Mombasa Municipal Stadium on Saturday.
The Harambee Stars' lone goal came after Joakins Atudo scored from the penalty spot ten minutes after half-time. The controversial penalty resulted after Rwandan defender Michel Rusheshangoga supposedly handled a high ball in the box according to Eritrean referee, Luleseged Gebremichael. This ruling evoked protests from all Amavubi Star's players as well as their technical bench.
Rwanda, fearing elimination, attempted to up their game by bringing in Jean Claude Iranzi to replace Cyiza Hussein Mugabo, but their attacks ultimately proved futile. Despite the loss, Rwandan defender, Emery Bayisenge was voted the man of the match–winning a fully installed DSTV decoder from the tournament sponsors GOTv.
The win by Kenya came as a shock to many as the Harambee stars had seemed off-color throughout the match. Coach Adel Amrouche had gotten visibly frustrated by his team's limited action in the first half causing him to substitute Noah Wafula with Cliffton Miheso.
Kenya will now face Tanzania, who have eliminated 13-time champions Uganda after a thrilling 3-2 win.
Photo: Kenya's Harambee Stars