Kenenisa Bekele to Compete at Bupa Great Edinburgh Cross Country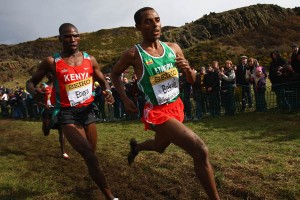 The legendary Kenenisa Bekele will be looking for a change in fortunes when he competes for the sixth time at the Bupa Great Edinburgh XCountry, an IAAF Cross Country Permit meeting, on the 11th of January.
After enjoying three successive victories at the Edinburgh event from 2006, the 31-year-old will be aiming to avenge the surprise defeats he suffered at his last two outings in Holyrood Park when he returns in the New Year.
Bekele was unexpectedly beaten into fourth place in 2010, and then two years later suffered the ignominy of finishing a lowly 11th.
Considered by many to be the world's greatest ever cross-country runner, he has amassed an incredible eleven gold medals over both the long and short courses at the IAAF World Cross Country Championships.
However, a period of bad form saw the superstar dogged by a ruptured calf muscle and a knee injury which left him unable to defend his 5000m and 10,000m Olympic titles in 2012. He has now switched his focus from the track to the road, and is looking forward to Rio 2016.
His campaign began in earnest this year, when he beat rival Mo Farah and countryman Haile Gebrselassie over the Half-marathon distance at the Bupa Great North Run in September.
"That was a race I needed to win; it really has told me that now I am injury free," said Bekele. "My confidence is back. I now intend to prove myself as a road runner and I am looking forward to my marathon debut next year.
"Cross country has always meant a lot to me and it is important I continue running races. I have more happy memories of succeeding in Edinburgh than when I lost. I won my final World Championships gold medal there (in 2008)."
The Bupa Great Edinburgh XCountry will be the first elite athletics event to be held in Scotland in 2014, the year Glasgow hosts the Commonwealth Games. Alongside the men's 4km invitational featuring Bekele and a host of other international superstars, the team competition will feature junior and senior athletes from Britain, Europe and the USA.
The Bupa Great Edinburgh XCountry takes place on Saturday 11th January in the picturesque surroundings of Holyrood Park, Edinburgh. The event also features a mass participation 5km, the Bupa Great Winter Run, which will see about 2500 amateur runners tackle a multi-terrain course ahead of the elite races.
Source: IAAF.org
Photo:  Kenenisa Bekele (right) races to victory during the 36th IAAF World Cross Country Championships at Holyrood Park on March 30, 2008 in Edinburgh, Scotland.  [Michael Steele/Getty Images]