Sudan Air Force Conduct Raids in South Kordofan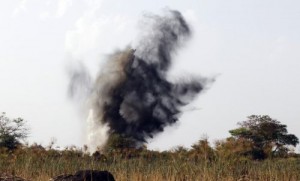 The Sudanese Air Force is reported to have conducted a raid on villages in South Kordofan on Sunday, killing two children and destroying countless properties.
According to Radio Dabanga, a Sukhoi airplane believed to belong to the government dropped two parachuted bombs near Buram and Tanasa village south of Kadugli around the Nuba mountains.
Only two children were allegedly killed in the explosion, but many others are thought to have sustained injuries.
Following the explosion, the Sudan People's Liberation Movement/Army-North published a press release denouncing what they described as "ethnic cleansing" of the local population by the government. The SPLM/N-N and the Sudanese Revolutionary Front have vowed to take action against the attacks.
The Sudanese military use air raids to target rebel camps in the interior of the vast nation. However, critics say the military also targets villages that support the rebels.
In a bid to put an end to the extended war in the country, the government of Sudan is reported to have increased the frequency of air raids on rebels in the past few months.
Only last week, the Sudanese Air Force is reported to have conducted raids on different areas in the eastern section of Jebel Marra. There were no casualties from the raids, but countless livestock and properties are reported to have been lost to explosions.
In nearby Nirma, residents say they have buried the bodies of 150 Sudanese military officers who were killed in a battle against the rebels. According to the residents, the bodies were left unclaimed and were beginning to rot, therefore a mass burial was conducted.
The war between the Sudanese government and rebels in the country, which has raged on for about a decade, has claimed thousands of lives and displaced even more people. Recently the Sudanese government revealed that it is ready to negotiate with the rebels to put an end to the war. However, it is unclear when the talks are due to begin.
For many years several human rights groups and international regulatory bodies have decried the situation in Sudan. Today, a delegation of the Sudan Revolutionary Front (SRF) touring Europe are reported to have proposed that a conference on security and humanitarian issues in the Blue Nile, South Kordofan and Darfur is organized. Several countries including France and Italy are reported to have already offered their support to this idea, which the delegation says it hopes will address this widespread loss of life and property.
Photo: Sudan Air Force strike in Blue Nile region. (2012/Sudan Tribune)