Ten Die of Yellow Fever in Sudan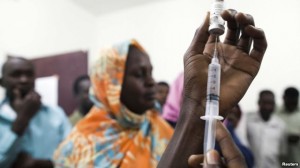 Ten people have died of yellow fever in Sudan's West and South Kordofan states, says the World Health Organization (WHO).
The ten, who died between October 3rd and November 13th, were among 36 suspected yellow fever cases diagnosed during the same period. Most of those affected are from Gengaro, Selegi, Masalit, Ghara, Alkarkar, Dumaik, Barno and Umaddar. A considerable number of them are also seasonal workers who came from eastern Sudan to work in the gum Arabic plantations.
The Ministry of Health on October 29th launched a small vaccination campaign targeting 1,000 people from South Kordofan in an attempt to contain the infection. Seasonal workers travelling to any of the affected towns from eastern Sudan are now required to receive the vaccine prior to their departure. However, only 400 of the targeted 1,000 people have been vaccinated.
The Health Ministry will now expanded its vaccination campaign to target 100,000 people from several towns in South Kordofan including Kadugli, Elreef Alshargi, Lagawa and Keilak. The WHO, on the other hand, will help to contain the impending outbreak by supplying medicines, insecticides and laboratory equipment to increase disease surveillance in the affected areas. Communicable disease surveillance has also been strengthened in other areas including the White Nile region, Gezira, Kassala, Gedarif and Khartoum.
West and South Kordofan are no strangers to yellow fever outbreaks. In late 2012, 849 cases of yellow fever, including 171 deaths, were reported in the Darfur region which neighbors West Kordofan causing the government to launch a mass vaccination campaign in the area. Over five million people from the five federal states of Darfur were immunized.
Photo by VOA/2012 – A health worker prepares to administer yellow fever vaccination to a patient in Western Darfur.