Uganda Warns Unqualified Foreign Traders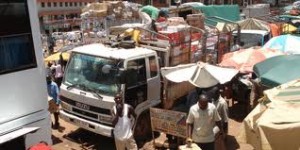 Foreign traders who do not fulfill the Ugandan government's investor requirements have until January 2014 to shape up or ship out, says the minister of trade.
The minister of Trade, Industry and Cooperatives, Amelia Kyambadde, issued a statement late last week saying "In accordance with section 10(5) of the Uganda Investment Code Act, a certificate of approval for non-citizens to conduct trading only in Uganda, will be issued by this ministry (Trade) with commencement from calendar year 2014."
Foreign traders will be required to present the certificate to Local and Urban Authorities when applying for a trading license for the year 2014 and those found without the document will be deported. The certificate will also be a requirement for non-citizens applying for Ugandan business and trade entry permits.
With this move, the government hopes to regulate "trade distorting practices such as anti competitive practices posed by dominance of value chains" and ensure that investors comply with relevant trade regulations.
Local traders who have been complaining that some foreign investors are engaging in unfair trade practices including selling fake products have welcomed the move. The spokesperson for Kampala City Traders Association (Kacita), Issa Sekitto, said "this could be a step towards [kicking] petty traders out of this country." He however said that there was need for more immigration and licensing interventions in order to prevent unqualified investors from entering the country in the first place.
Uganda has seen an influx of foreign traders – mainly from Asia – over the last 10 years. Although the government requires any investor looking to do business in Uganda be willing to invest a minimum of $100,000, some of these people turn out to be petty traders operating small shops. According to the Ministry of trade, these 'investors' are responsible for bringing fake goods- especially electronics and building materials- into the Ugandan market.
The trade industry employs millions of Ugandans across various value chains and is a major development tool for the country. The government is therefore determined to enforce trade regulations and ensure compliance with domestic, regional and multilateral trade obligations.
Photo of the Ugandan Trade Fair 2011.