4 Suspects Charged Over Westgate Attack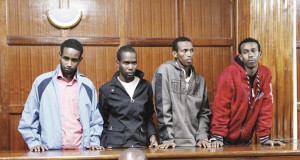 The government of Kenya has charged four men with terrorism in connection with the deadly Westgate mall attack.
The names of the suspects are Adan Ibrahim, Liban Abdullah, Mohammed Ahmed Abdi and Hussein Hassan. All four men are thought to be from Somalia.
The suspects are reported to have appeared in court without lawyers and had their charges read to them through a Somali translator, after alleging they spoke neither Swahili or English. All four suspects have pleaded not guilty to the charges leveled against them.
The suspects are being accused of aiding and thereby indirectly carrying out the attack. "The accused persons carried out a terrorist attack at Westgate shopping mall on September 21st by supporting a terrorist group," the charge sheet reads.
The suspects are reported to have provided the gunmen with shelter and fake Kenyan documents. They were also charged for being in Kenya illegally.
Meanwhile, the hearing of the four suspects have been postponed, following the Prosecution's request for more time to conduct further investigations. The hearing was adjourned to November 11th, when a formal date for the trial is expected to be announced. The suspects will remain in police custody until then.
Investigations are still ongoing into the attack on the popular shopping mall in Nairobi which lasted about 4 days. The Kenyan army has revealed the names of four gunmen, who were suspected to have been at the heart of the deadly assault. Among them is Hassan Abdi Dhuhulow, a 23-year old Norwegian national of Somali origin.
The army also disclosed that all four gunmen were killed in the siege and that Interpol is assisting the Kenyan government  identify four bodies suspected to be those of the gunmen.
Somali based Islamist militant group Al-Shabab claimed responsibility for the attack, calling it a revenge for Kenya's military presence in Somalia. It is currently unclear if the four suspects in custody have any connections with Al Shabab.
Photo: Mbugua Kibera/Standard