Media Stakeholders Attend African Media Leaders Forum 2013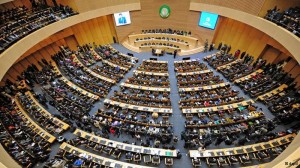 Stakeholders in Africa's media are in Addis Ababa for the 2013 African Media Leaders Forum.
This year's event, scheduled for the 6th to 8th of November, is themed "Media and African Renaissance."
This annual event, which is currently in its 6th year, brings together publishers, journalists, CEOs and other stakeholders in Africa's media to share ideas on the best ways to improve media practices and effect change in the continent.
AMLF 2013 is being organized in partnership with the African Union (AU), the United Nations Economic Commission for Africa (UNECA), the African Development Bank (AfDB), the African Capacity Building Foundation (ACBF) and the Sub-Saharan Africa Media Programme of the Korad-Adenauer-Stiftung (KAS Media Africa).
Besides numerous debates and discussions during this two-day gathering, the event is also expected to be a platform for individuals and organizations to showcase ground breaking innovations.
AMLF 2013 will be co-chaired by Dr. Donald Kaberuka, AfDB President; Dr. Carlos Lopes, Executive Secretary UNECA, Ethiopia and Dr. Nkosazana Dlamini Zuma, AU Chairperson.
The Chief Executive Officer of the African Media Initiative (AMI), Amadou Mahtar, touched on the importance of a free and stable media to Africa's development. "Press freedom and freedom of expression are critical ingredients to ensure a stable, dynamic and growing continent," he said.
The meeting is expected to kick off on the 6th of November with a public debate themed "Are African Media Capable of Transforming the Continent?"
One of the most important highlights of this event will be the "Heads of States Roundtable" on November 8th on the theme "Reflecting on Enabling a Conducive Media Development Environment in Africa: Funding, Ethics, Technological Innovation and Freedom."
While the media has become increasingly free in some parts of the continent in the past few years, in other areas the media still contends with security risks and several other challenges threatening their free and optimal operation.
Photo: UN Conference Centre in Addis Ababa, where the event will take place.