Ministers from Ethiopia, Egypt and Sudan to Meet Again Over GERD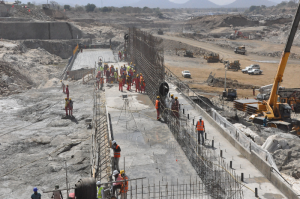 The Water Resources and Irrigation Ministers of Ethiopia, Egypt and Sudan are scheduled to meet in Khartoum on December 8th.
The forthcoming meeting was announced yesterday, after a brief meeting between the ministers in Khartoum.
Osama Adballah, the Sudanese Minister of Water Resources and Electricity, made the announcement. He described the deliberations between the ministers as characterized by "fraternity and frankness" on the best ways to implement the recommendations of experts on the dam being constructed on the Blue Nile.
At the meeting next month, the ministers are expected to continue discussions on the recommendations put forth by the international panel of experts on the effects of the Grand Ethiopian Renaissance Dam on the water supply of lower riparian nations.
The Egyptian government and several rights groups in Egypt have raised questions over the effects of the GERD on the water supply of the Blue Nile, which about 90% of the country depend on for water.
According to the international panel of experts consulted to assess the dam, construction of the GERD is not expected to have a significant effect on the lower countries. However, the group added that Ethiopian authorities need to conduct more detailed studies into the project given its size and regional importance.
Although the Egyptian and Ethiopian Presidents have put the disagreement over the dam aside after President Hailemariam Desalegn assured Egypt and other downstream nations that the project wouldn't affect their interests. Experts say the upcoming ministerial meeting is crucial for Egyptian authorities to make a final stand on the 6,000MW hydroelectric dam proposed by Ethiopian authorities.
The $4.8 million project is part of the Ethiopian government's efforts to drastically increase its power supply in order to support the creation of industries. Ethiopian authorities say the government also plans to export electrical power to neighboring countries like Sudan and Egypt.
Source: Xinhua