Outraged Kenyans demand justice for alleged rape victim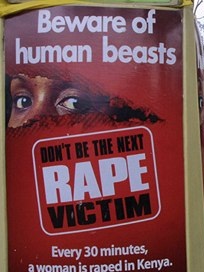 Outraged Kenyans are demanding justice for an alleged rape victim. The culprits, who are currently in custody, are reported to have dumped the teenage girl in a ditch and left her for dead after attacking her.
According to media reports, the 16-year old girl, nicknamed Liz (not her real identity), was heading home after attending her grandfather's funeral in Busia town when the supposed attack took place. The teenager apparently recognized the faces of her attackers as she attempted to fight and flee from them.
The perpetrators, believed to aged between 16 and 20, are said to have punched and kicked Liz. The alleged attackers then raped and dragged her into a deep pit-latrine close by.
In spite of her horrific injuries and a fall of about 12 ft, Liz reportedly managed to get out of the latrine using the earthen steps. Numerous hours later, neighbors purportedly heard Liz's cries and went to her rescue.
The Daily Nation reports that neighbors found Liz unconscious and bloody upon their arrival. According to media reports, the girl identified some of her attackers, who have been taken to the police station in Tingolo village by the infuriated neighbors. The police are said to have assured the furious neighbors that justice would prevail. However, the police apparently released the perpetrators after ordering them to cut grass as punishment.
The following day after the incident, Liz is said to have visited a dispensary where she received paracetamol and antibiotics. However, media reports indicate that Liz's mother had to sell their chickens upon discovering that Liz was still unable to walk a week later.
The chickens were the family's sole source of income. But their sale permitted Liz to access medical care in a nearby town. Liz's condition reportedly worsened again forcing the mother to take action. This time, she leased the family's land to get Liz to Kakamega town. Media reports indicate that the doctors at a medical clinic in Kakamega diagnosed Liz with a damaged spinal cord and fistula.
Because of the alleged sexual assault, Liz is unable to control her bowels and has to use a wheelchair. Following reports about the alleged incident, an outcry has since ensued on social media with various Kenyans expressing their utter dismay. Kenyans are further demanding the incarceration of the alleged suspects as well as the officers who released the purported perpetrators.
Human rights groups have equally voiced their dismay regarding the supposed incident. Kenya's Coalition on Violence against Women (COVAW) termed the case, an instance of blatant impunity and recurring noncompliance within the Kenya police force and other government bodies. The organization further added that rape and other gender related crimes have constantly been regarded as "lesser" crimes.
Mary Mahoka, a social worker with a local organization that deals with child protection, believes that incidents such as these are the outcome of entrenched chauvinism in her home area. On the same note, Rasna Warah, a Kenyan reporter blames the country's leaders, both men and women, for frequently expecting foreign-funded organizations to raise awareness.
The Daily Nation has since publicized a campaign where women's groups and other parties are demanding an investigation into the incident. Avaaz, an international campaigning network, has also initiated an online appeal demanding justice. As of yesterday October 26th, it had over 400,000 signatures.
In response to the supposed incident, David Kimaiyo, the Inspector General stated via social media that the case is under investigation, according to CNN reports. Kimaiyo further added that the alleged suspects have been arrested pending a hearing.
According to media reports, the world may have never heard this story were it not for – Jared Momanyi – the outraged director of a clinic that specializes in treating victims of sexual violence, to which Liz reportedly attended .
While Liz continues to deal with the aftermath of the purported attack, it remains unclear whether this case and others will receive any justice.
Photograph: Simon Maina/AFP/Getty