Ethiopia says it will not withdraw from Somalia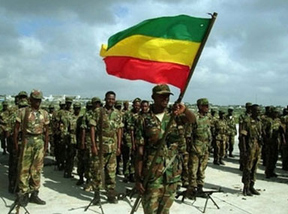 Ethiopian Prime Minister, Hailemariam Deslaegn, has stated unequivocally that his county will not withdraw its troops from Somalia.
This comes a day after Ethiopia reduced the number of its troops in Somalia, stating that the war-torn country had achieved relative peace and stability.
The Prime Minister told reporters that his country had no reasons to completely withdraw from Somalia, adding that they intended to continue the fight against Al Shabab. He declined to reveal the number of troops remaining in Somalia, but officials say the troops there are capable of maintaining relative stability. It is estimated that about 8,000 Ethiopian troops are still controlling many parts of the neighbouring country.
Ethiopia's Minister for Foreign Affairs, Dina Mufti, had earlier stated that Al-Shabab's attack on Kenya would not in any way deter the country's involvement in Somalia. He said Ethiopia was determined to ensure that peace and stability was maintained in Somalia and the remaining soldiers were very capable of completing the job. He also emphasized that the terrorist group was a global problem and not only an Ethiopian problem.
Two weeks ago, the Somali based Islamist militant group, Al-Shabab, claimed responsibility for the terrorist attack on Westgate shopping mall in Kenya which left 67 people dead. The group stated that the September 21st attack was a protest against the presence of Kenyan troops in Somalia.
Kenyan and Ethiopian troops invaded Somalia in 2011 to fight Al-Shabab. These invasions caused the Islamist militant groups to declare holy war (Jihad) on the two countries and others who are part of the African Union's AMISON peace keeping force.