Sheikh Rogo's assassination sparks riots in Kenya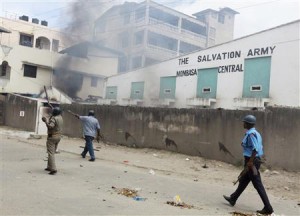 An attack on the convoy of a Muslim cleric on Thursday sparked protests in Nairobi today.  So far, one church has been set on fire and at least one protester badly injured as security officers try to control the situation.
Mr Sheikh Ibrahim Rogo and four other occupants of his car were attacked by unknown gunmen on Thursday night. They were on their way back from preaching at musa mosque north of Mombasa. The attack happened not far from a police post. Only one occupant, Mr Salim Aboud, survived the incident – and according to him this is because he pretended to be dead.
News of the attack angered Muslims across Kenya, many call it a calculated revenge for the Westgate attack. The fact that the death of Sheikh Ibrahim Rogo almost mirrors that of Sheikh Aboud Rogo – whom he succeeded after he was killed last year under similar circumstances – raises a lot of questions about the motives behind this attack.
Many Muslims suspect the Kenyan security forces, whom Sheikh Aboud Rogo had problems with, to be behind his assassination as well as the assassination of Sheikh Ibrahim Rogo. Renowned Muslim leader and friend of the late Sheikh Rogo, Sheikh Abubakar Sheriff (also known as Makaburi) accused the Kenyan Anti Terrorism Police Unit of having a hand in the Sheikh's death. According to him, the police are killing innocent Muslims who have not killed anyone. He added that "Sheikh Ibrahim was not at Westgate during the attack."
But the Mombasa Police commissioner assured Reuters that the police are not behind the shooting. According to him, it is not how the police operates.
Today's protests began some hours after the Muslim Friday prayers ended. Authorities say the Salvation Army Church which was burnt is on the same street as a mosque renowned for housing radical Muslims.
The Westgate attack has highlighted deep religious lines in Kenya. Speaking yesterday at a ceremony, Bishop Anthony Muheria cautioned Kenyans not to allow religious differences destroy their unity. He said "Terrorists do not [naturally] belong to certain religions and neither do they belong to certain tribes."
Meanwhile, Sheikh Rogo and the three other men who were killed have been buried at Kiziwi cemetery.
Photo by REUTERS/Joseph Okanga