Kenyan government vows to investigate Westgate looting claims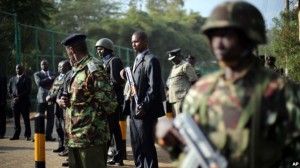 Several officials from the Kenyan military convened on Thursday to discuss allegations that soldiers looted shops during the attempt to rescue hostages at the Westgate mall last month.
The meeting, which was attended by many important Kenyan security officials was called by Julius Karangi, the military chief. Reports from the Defence Headquarters said the military would make an immediate decision once the guilty persons are found.
Although police sources say the footage from the CCTV is unclear, a local newspaper has published an elaborate description of the footage. According to the newspaper's report, the soldiers started robbing the place only a few hours after arriving. Some soldiers are also said to have emptied cash registers into plastic bags. All the stores in the mall are reported to have been robbed except a shoe store.
Several traders who returned to their shops in the Westgate complex have complained of their shelves and cash registers being cleared out.
Over the weekend, Interior Minister, Joseph Ole Lenku assured the people of the government's commitment to solving these complaints. He informed the people that the police had arrested three suspects so far and encouraged them to co-operate with the security forces in bringing the criminals to justice.
The is the largest terrorist attack in Kenya since the 1998 U.S. Embassy bombing. The attack lasted for about 4 days and left over 78 people dead and hundreds injured.
This attack raises a lot of questions about the efficiency of the Kenyan security system. Besides the fact that the attackers were able to take control of an upscale mall in Kenya's capital Nairobi in broad day light. Leaked intelligence reports suggests that several top ranking members of the Kenyan government had been warned of the possibility of the attack on Westgate.
Photo by AP