ICC accuses Kenyan journalist of bribing witnesses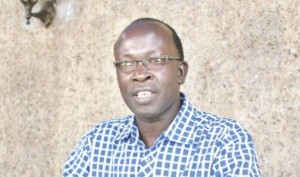 The International Criminal Court, on Wednesday, issued an arrest warrant for Kenyan journalist and activist Walter Osapiri Barasa for attempting to influence the ongoing case against Vice President William Ruto.
Barasa, who worked with the ICC in its investigations in Kenya, is charged with bribing and conniving to bribe witnesses P-0336, P-0536 and P-0256 in the case against Vice President Ruto. According to media reports, the prosecution called for the urgent arrest of Barasa, as his and the attempts of others were threatening to interfere with the ongoing case.
Although the other people supposedly involved in interfering with the case have not been named, ICC Prosecutor Bensouda said they are "a wide network of people."
Prosecutors report that many witnesses have simply opted out of testifying. Although the defence lawyers deny the witnesses were intimidated, the prosecution insists this is the case.
The arrest warrant, which is reported to have been issued as far back as August 2nd by Judge Cuno Tarfusser, accuses the Kenyan journalist of bribing witnesses to withdraw their testimonies in the on-going case against the Kenyan Deputy President William Ruto. This is the first ICC case against an individual for preventing the administration of justice.
The prosecution is also accusing Barasa of offering to pay witnesses a sum of 3.9 million. Barasa has been charged with three counts of corruptly influencing a witness.
Prosecutors have left it in the hands of the Kenya government to arrest Barasa. But he insists on his innocence and says he is prepared to defend himself against these allegations he describes as false. According to him, an ICC investigator, Paul Irani, had tried to force him to get witnesses in Eldoret to testify in order to save Ruto. But he says he refused to comply.
A statement from Kenya's attorney general's office said the ICC's arrest warrant is subject to judicial procedures under the country's International Crimes Acts of 2010.
The Kenya government has recently developed a lukewarm attitude towards the ICC. President Kenyatta and his deputy have requested that their case be transferred to a court closer to Kenya with a better understanding of the country's affairs. President Kenyatta has also moved to get support from the African Union to push for this request. The enforcement of this arrest warrant will test the level of the Kenyan government's willingness to free itself from the control of the ICC.
President Kenyatta and his deputy are charged with instigating violence in the 2007 elections dispute. On Wednesday, Deputy President Ruto resumed his trial at the ICC after a short break to attend to the Westgate crisis.