Uganda tightens internal security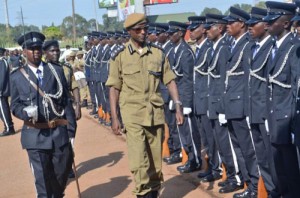 The government of Uganda has announced it is tightening its internal security following the ongoing al shabab attack on the Westgate shopping mall in Kenya.
The Inspector General of Police, General Kale Kayihura said troops have been deployed to large commercial centres throughout the country as well as around its borders. On several occasions, al shabab have threatened to attack nations who provide troops to the African Union Peacekeeping Mission in Somalia (AMSON). Since the attack by al shabab on Uganda in 2010, the country has kept a small permanent force at its kampala border to avert any unforeseen attacks.
General Kayihura cautioned the public not to take alerts like this for granted. According to him the nation's "real strength to deter such incidents and defeat these criminals lies in active community policing." He went on to advice the people on how to be on the lookout for danger. "Always be suspicious of strange people and objects, armed or unarmed. It is because of this that Uganda has continued to survive."
Photo courtesy of chimpreports.com