ICC adjourns Ruto, Sang trial for one week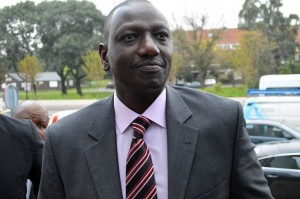 Kenya's Vice President William Ruto has been given the green light to return home to deal with the Westgate crisis by judges at the International Criminal Court.
The lead Judge in charge of the trial, Judge Chile Eboe-Osiji said "Defence will file soon a request to the Appeals Chamber to lift the suspensive effect regarding the Prosecutor's appeal of the decision excusing Mr Ruto from continuous presence at trial."
Mr Ruto's attorney filed the request for an adjournment on Sunday night, citing that his client is needed to attend important security meetings. Mr Ruto is in the ICC to face charges of instigating crimes against humanity during the civil unrest that swept through the nation after its 2006/07 elections.
AFP Photo/Jan Hennop