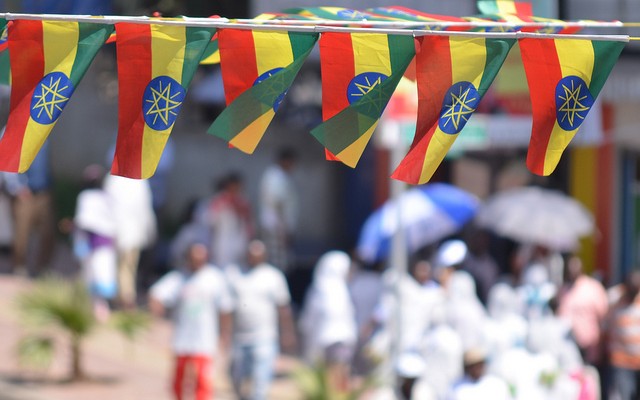 Ethiopia Sets Three-Day Mourning Period for Oromo Stampede Victims, Blames Troublemakers for Violence
Ethiopian authorities have announced a three-day national mourning period for scores of people who died on Sunday from a stampede which ensued after police clashed with protesters during a regional festival.
On Monday, the Ethiopia government announced that the mourning period would start on Tuesday, Aljazeera reported. Flags across the country would be flown at half-mast.
The deaths of about 50 people have been confirmed, while the number of injured is still uncertain after the stampede in Bishoftu, near the country's capital Addis Ababa.
The deadly incident happened during the annual Irreecha festival observed by the Oromo people, Ethiopia's largest ethnic group. The Oromo people have been protesting against the government since late last year over an expansion plan.
The celebrations, which saw about two million people in attendance, reportedly turned fatal after security officials shot rubber bullets and tear gas into the crowd in a bid to disperse anti-government protesters.
Dozens of people died and sustained injuries attempting to flee the chaos. Several people were crushed in the stampede; other fell into ditches. Search and rescue efforts are reportedly still underway.
The government has blamed the violence on "anti-peace elements."
Protesters took to the streets on Sunday evening and on Monday morning to demonstrate against the government, AP reported. The protests, which happened in several towns in Ambo and Bishoftu, reportedly started peacefully but ended in violence after Ethiopian forces stepped in to scatter the demonstrators.
"Some people tried to come out en masse this morning to protest the deaths of holiday-goers on Sunday and also to demand the release of people arrested during the celebrations," Nimona Negash, a resident of Bishoftu, said. "Today's protests were peaceful but dispersed by police violently. I'm not aware of any deaths this morning, but it was violent. But I'm aware of live bullets used this morning in other vicinities of this town."
About 200 people have reportedly been arrested in Bishoftu due to the tensions created by families looking for their relatives after the stampede.
The waves of anti-government protests in Ethiopia, which began in the Oromo region, has since spread to the Amhara region. The government has dismissed the protests as the workings of foreign forces looking to destabilize Ethiopia.
Photo by John Iglar/CC BY-SA 2.0