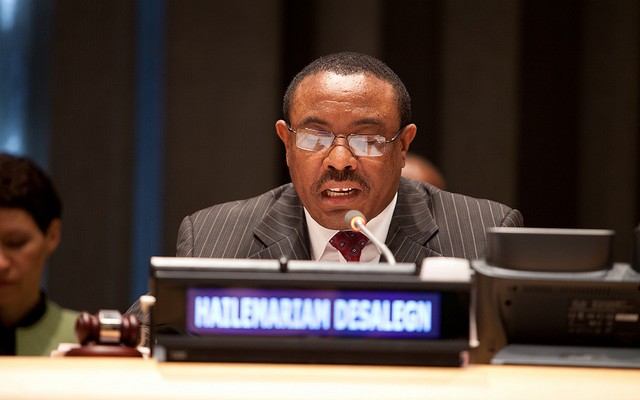 Ethiopian PM Hailemariam Desalegn Blames US-Based Opposition Groups for Olympic Medalist Feyisa Lilesa's Oromo Protest
Addis Ababa has blamed Ethiopian opposition groups in the United States for encouraging long distance runner Feyisa Lilesa to protest against the government at the just-ended Rio Olympic Games.
On Tuesday, Ethiopia's Prime Minister Hailemariam Desalegn said he suspects that members of the Oromo Liberation Front (OLF) were involved in Lilesa's Rio protest, Foreign Policy reported.
"It's me who sent him to Rio for Olympics, and we expected him to come back after winning the medal," Hailemariam said. " This is not the capacity of the man himself. It's something which has been orchestrated by someone else from outside."
Hailemariam claimed that the same group who helped the athlete in his demonstration also assisted him in acquiring a visa to the U.S.
Lilesa made an X-sign with his arms after winning silver in Rio. He refused to return to the Olympic village after his demonstration. The athlete, who has a wife and two children in Ethiopia, also declined to go home after the Summer Games ended.
Two weeks ago, Lilesa arrived in Washington DC on an expedited visa. The 26-year-old runner had been living in a Rio hotel since August when the Olympics ended.
The symbol Lilesa made with his hand is a sign of solidarity among the Oromo people, Ethiopia's largest ethnic group, who have been protesting against the government since November 2015, AP reported.
Lilesa received about $150,000 from a crowd funding campaign organized to support him and his family after the protest. Since his arrival in the U.S., he has been granting interviews to the media.
In an interview with the Washington Post, Lilesa said the Oromo community in the U.S. assisted him in applying for his visa.
Lilesa, who was present at a press conference organized by New Jersey Rep. Chris Smith last week, said the situation in Ethiopia is getting worse, CNS News reported.
Rep. Chris Smith announced his plans to present a bill that would require Addis Ababa to allow independent investigators into the country to examine claims of human right violations.
"This legislation calls for incredible investigations into the government in the Oromia and Amhara regions, as well as the recent fire and shootings at Qilinto Prison," Smith said during his Capitol Hill address.
The United Nations has also called for Ethiopia to allow foreign investigators into the country. However, Hailemariam said this week that allowing foreign inquirers into the country would be a violation of Ethiopia's sovereignty.
"Ethiopia is a sovereign country and Ethiopia has the capacity to investigate its own case," Ethiopia's Ambassador to the U.S., Girma Birru, told Foreign Policy. "When the Ethiopian government is assumed to have failed to do these things, its an insult."
Human Rights Watch has put the number of causalities in the ongoing anti-government protests in Ethiopia at around 500.
(Photo by United Nations Information/CC BY-NC-ND 2.0]