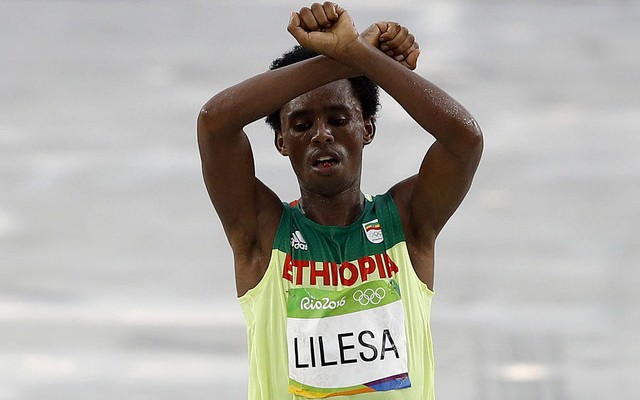 Feyisa Lilesa Arrives in U.S. on Expedited Visa 3 Weeks After Rio Anti-Government Protest
Ethiopia's long distance runner, who refused to return home after protesting against the Ethiopian government at the just-ended Rio Olympic Games, has arrived in the United States.
Lilesa had been living in Brazil since August. He arrived in Washington DC on Friday on an expedited visa, BBC reported.
Lilesa made an X sign with his arms after winning silver in Rio. He refused to return home after the competition ended because he feared for his life and safety.
The symbol Lilesa made with his hand is a sign of solidarity among the Oromo people, Ethiopia's largest ethnic group who have been protesting against the government since November 2015, AP reported.
After Lilesa's protest, a crowd funding campaign was organized to support him and his family as he seeks asylum. The organizers of the GoFundMe campaign initially set $10,00 as their target. However, donations surpassed the target an hour after it was posted.
Contributors have so far donated about $161,844 after the campaign's target was changed to $150,000.
Ethiopian officials have said the unrest in the country, which began with waves of protests over a controversial government expansion plan, has been hijacked by foreign forces looking to destabilize the country.
The anti-government demonstrations, which have since spread to the Amhara region, has reportedly led to the death and incarceration of several protesters. Human Rights Watch puts the number of causalities at around 500.
This week, the U.S. government expressed concerns over Ethiopian security officials using excessive force against protesters.
U.S. ambassador to the United Nations Samantha Power said that the violence in Ethiopia is "extremely serious." She asked the Ethiopian government to allow peaceful protests. Power also called for an independent investigation into reports of clashes between demonstrators and security officials.
[Photo by Jeso Carneiro/CC BY-NC 2.0]