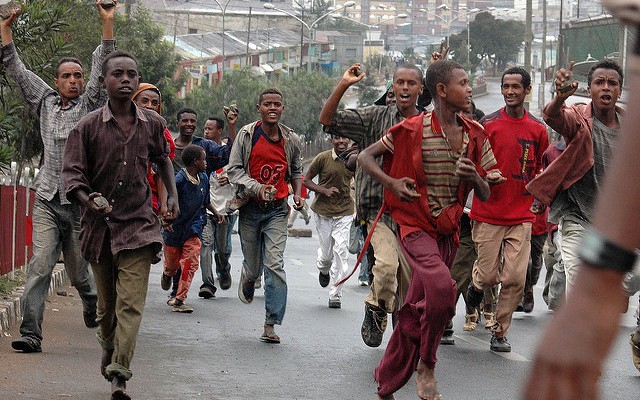 Widespread Anti-Government Protests in Ethiopia Over the Weekend Leads to Deaths and Arrests
Anti-government protests in Ethiopia turned violent over the weekend after clashes with security forces. Several demonstrators are said to have lost their lives in the clashes.
The protests, which took place in Ethiopia's Amhara and Oromo regions on Saturday and Sunday, allegedly led government officials to block the Internet and mobile services, BBC reported.
However, as of Monday, both Internet and phone services had been restored.
Ethiopian officials, who restricted Internet access in July during national exams, are yet to comment on the recent shutdown.
Seven protesters were reportedly killed during demonstrations in Bahir Dar, the capital of the Amhara region on Sunday. Meanwhile, banks, hotels, and other public facilities were attacked during the weekend demonstrations.
The unrest in the region started after protesters demanded that the Welkait community, which was recently placed under the Tigray region, be returned to Amhara.
Demonstrations also turned violent in 10 towns in the Oromia region where over 20 demonstrators were killed over the weekend, Reuters reported.
A large but unspecified number of protesters also sustained injuries or have been detained.
The protests in Oromia centered on demands for the release of people detained earlier in the year during waves of demonstrations against a government expansion plan, New York Times reported.
Similar protests and arrests reportedly also occurred in Addis Ababa, Ethiopia's capital.
Officials have since denounced the widespread protests as "illegal" and the workings of foreign terrorists looking to destabilize the country. Social media activists have also been blamed for organizing the protests, Fana Broadcasting Corporation reports.
"The government is aware that the ideas and slogans reflected in the demonstrations do not represent the people of Oromo and Gondar," Prime Minister Hailemariam Desalegn said on Friday.
Photo by Andrew Heavens/CC BY-NC-ND 2.0]