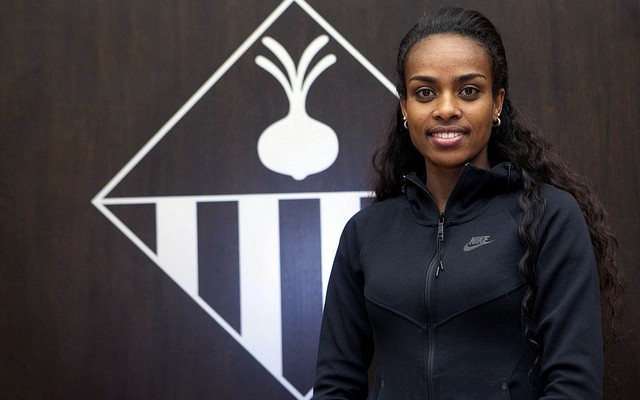 Jama Aden, Coach of 1500 Champion Genzebe Dibaba, Claims Innocence After Arrest on Doping Charges
The coach of Ethiopia's 1500m world champion Genzebe Dibaba, who was arrested in Spain last month during an anti-doping investigation, has said he is innocent.
Jama Aden claims the anti-doping officials who raided his Catalonia hotel room on June 20th did not find any illegal drugs. He said officials found only magnesium, calcium, and other vitamins during the bust.
"I saw the media. I saw of course, when they say they found drugs in my room. It was a news story but it wasn't my room it was somebody else's who I have no association with. We just say hello at the track," Aden said this week during an interview with Canadian Running. "The federation, they evaluated things, and they saw I didn't have any drugs in my room or my apartment."
During the raid, which was led by the International Association of Athletics Federations (IAAF) and Spanish authorities, investigators reportedly found several illegal drugs.
A blood-boosting drug called EPO and several unidentified medicines were allegedly found in two rooms in the hotel. One of the rooms reportedly belonged to Mousaeb Ball, a Qatari national who trains with Aden.
More than 20 athletes, who train with Aden, were present in the hotel during the raid. These athletes, including Dibaba and Ayanleh Souleiman, all underwent blood and urine tests during the raid. The results of the tests are yet to be released.
Aden, a Somali national, was initially detained, along with an unnamed physiotherapist, on charges of doling out banned substances to athletes. He has since been released.
Aden said his widely published anti-doping arrest has destroyed his reputation as a middle-distance running coach.
According to the IAAF, investigators have been looking into Aden for about three years now. However, Aden believes he and his athletes are being investigated because other training groups are jealous of their success on the tracks.
"Of course, when Genzebe broke the [world 1,500m] record, they say' obviously she cheated. But she is tested all the time," Aden said. "There is no way in the world you can get away with cheating if you have a high level athlete."
"The problem we are facing in the world now, as we are a very good training group, everybody points fingers and says 'Oh they are cheating," the 53-year-old coach added. "The people who did not succeed are killing the others because everybody is not the same. Some people can run good, some people cannot. Some like to bad mouth other. The media are going crazy now. This is the problem with athletics now."
Despite the fact that Ethiopia's Athletics Federation and other agencies have distanced themselves from Aden after his arrest, his athletes, Including Dibaba have remained supportive of their coach.
[Photo by Premsa Ajuntament de Sabadell/ Flickr]