al-Shabab Attacks Ethiopian Base in Somalia, Claims to Have Killed Over 40 Soldiers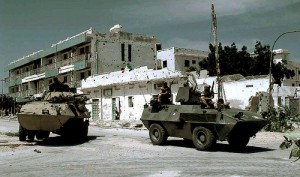 Somalia-based Islamist militant group al-Shabab claims to have killed over 40 Ethiopian soldiers during an attack on the African Union (AU) peacekeeping base on Thursday.
The group with ties to al-Qaeda reportedly attacked the base located in Halgan, in central Somalia before dawn.
According to the BBC, the assault on the base, which is run by Ethiopian troops, began with a suicide car bomb ramming into the entrance.
The African Union Mission in Somalia (AMISOM) has confirmed the attack on the Ethiopian base. However, officials say Shabab has since been repelled.
Ethiopian soldiers in the base reportedly exchanged fire with the militants before being assisted by the Somali army.
Shabab troops have reportedly been pushed back and are said to be on the run. Ethiopian and Somali troops are chasing them.
Ethiopia is one of five African countries that is contributing troops to the AU peacekeeping mission in Somalia.
AU troops are fighting to protect Somalia's internationally-backed government. AU forces aim to ensure peace and stability in the country afflicted by decades of war.
Shabab has suffered significant defeats at the hands of the 22,000-strong peacekeeping force. However, the Islamist group continues to launch deadly attacks across Somalia and in neighboring countries.
In January, the group launched an assault on a Kenyan military base in el-Ade, southwestern Somalia. The attack, which began after morning prayers, reportedly left over 60 Kenyan soldiers dead.
Shabab is fighting to overthrow the government and turn Somalia into a fundamentally Islamic state.
Photo: U.S. Forces in Somalia – Department of Defense Joint Combat Camera Center DD-SD-00-00861 via photopin (license)