Murder of Man Suspected of Killing an Ethiopian Shop Owner Sparks Xenophobic Attacks in South Africa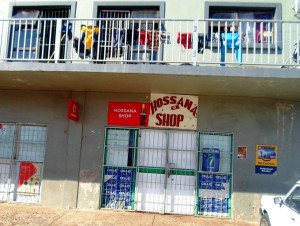 Up to eight immigrant-owned business in South Africa's Eastern Cape have been attacked and looted by a mob following two murders.
The xenophobic attacks occurred this week after the death of a South African citizen who is suspected of killing an Ethiopian immigrant.
On May 5th, 27-year-old Eyob Madamo, an Ethiopian expatriate, was murdered in his shop in KwaNomzamo, Humansdorp.
Some Ethiopian shop-owners reportedly traced and found Madamo's attackers. They allegedly beat one suspect, who was found with Madamo's belongings, to death.
"The Ethiopians then tracked the suspect's accomplice to Sea Vista. They found the suspect and beat him also….This angered the residents of Sea Vista who started attacking foreigners, accusing them of beating up a South African national," a GroundUp report said.
South Africa Police spokesperson Lieutenant Gerda Swart confirmed the murders of Madamo and Fabian Goeda. Goeda was attacked on Sunday evening in a Humansdorp street. According to Swart, he died in the hospital a day after the attack.
Swart says officials have initiated an investigation into the murders. However, she said, "at this stage there are no links to the two incidents."
About eight shops owned by immigrants in Humansdorp have been attacked and looted following the incident. Reports indicate that most immigrant shops in Humansdorp have remained closed. Their owners are believed to have fled the to Port Elizabeth for safety.
Three male suspects have been charged with public violence and malicious damage to property following the xenophobic attacks. The suspects, all residents of Sea Vista, appeared in the Humansdorp Magistrates 'Court on Thursday. The men will remain in custody until May 25th.
Police have been patrolling the Sea Vista area. Meanwhile, local officials have called for an end to the violence, cautioning people not to take the law into their hands.
The Ethiopian Embassy in South Africa is yet to officially comment on the violence.
South Africa has a history of violent attacks on foreigners. Locals, particularly poor South Africans, blame foreign nationals for the lack of jobs and increasing crime rates. African nationals are usually the target of such attacks which have been described as a form of "self-hate."
In November, six Ethiopians were killed in Durban by a local vigilante mob. In April, three Ethiopians were reportedly killed in a series of xenophobic attacks in Durban.
Similar attacks also occurred in Soweto last year following inciting statements from several high-profile figures in South Africa.
Photo: Joseph Chirume/GroundUp