6 Ethiopians Burned to Death in Latest South Africa Xenophobic Attacks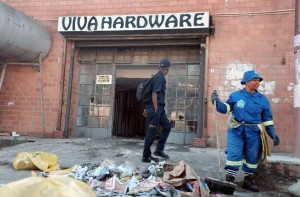 In a new spate of violent xenophobic attacks to hit South Africa, six Ethiopian nationals have been killed this past week in separate incidents.
On Friday, VOA reported that the killings happened in Durban, which has a history of violent attacks on foreigners. Locals, particularly poor South Africans, blame foreign nationals for the lack of jobs and increasing crime rates – hence the attacks.
"They just come, steal and attack. In fact, the body of one of the victims is about to be sent back home… they doused his body in kerosene and killed him. But there were two others who were killed before him," Yonas Fikru, an Ethiopian businessman living in Durban, said.
Although the names of the victims have not been revealed, reports indicate that they were all Ethiopian men in their 20s.
The Ethiopian community in Durban has expressed frustration over the killings and the inability of the South African police to deal with the culprits and protect foreigners.
Tegegne Aboye, an Ethiopian living in Durban, said even when the criminals are reported and arrested, there is not justice as they are released soon after.
"The killer vigilante mobs are thinking that it is their right to do what they are doing," Aboye said. "Even when they are caught or when someone point out criminals, we see them released shortly. Some of them and we see them coming out the next day and committing more crime."
Aboye claims the Ethiopian embassy in South Africa has been of little help in protecting its citizens from xenophobic attacks.
"We see our brothers getting killed, doused with a three-liter jerrican of kerosene, and no one is helping is when this happens," he lamented. "We haven't seen anyone sticking up for Ethiopian citizens here."
In April, about three Ethiopians were killed during a series of xenophobic attacks against foreigners in Durban. The attacks, which mostly targeted immigrant-owned shops and homes in Durban's poor townships, followed similar occurrences in Soweto, near South Africa's capital city Johannesburg.
South Africa has seen several xenophobic attacks this year following inciting statements from several high-profile figures in the country.
In May, Zulu King Goodwill Zwelithini, leader of the Zulus, one of the biggest ethnic groups in South Africa, said foreigners "need to pack their bags and leave."
Edward Zuma, son of South Africa's President Jacob Zuma, has also said the country is "sitting on a ticking time bomb of them [foreigners] taking over the country".
However, Jacob Zuma and the South African government have categorically condemned the attacks. King Zwelithini later said his statements were misinterpreted – he also condemned the attacks.
Police Minister Nathi Nhleko said the attacks were a form of African "self-hate".
"Some of us find it difficult to think that this is just xenophobic. I think it also represents a particular political problem. You don't see Australians being chased on the street, you don't see Britons being chased on the streets," he said.
At the time of writing this article, South African authorities have not announced any arrests following the killing of the six Ethiopian men. The Ethiopian embassy has also not released any statement about the murders.
Photo: Rajesh Jantilal/AFP