Massive Brawl Breaks out Between Pro- and Anti-Government Supporters During Eritrean Independence Celebrations in Israel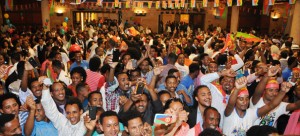 Violence erupted in Tel Aviv this weekend as thousands of Eritrean migrants gathered to celebrate the east African country's 25th independence anniversary.
The massive brawl at the event organized by the Eritrean Embassy to Israel on Friday occurred between pro- anti-government supporters.
The brawl reportedly broke-out at the entrance of the Convention Centre in Tel Aviv. Eritrean government had been allowed into the center while members of the opposition were protesting outside.
Eritreans across the globe usually celebrate their country's independence. Over the years, the patriotic celebrations have perplexed countries where thousands of Eritrean migrants seek asylum.
According to the United Nations, thousands of Eritreans flee human rights abuses and persecution yearly. It is estimated that Eritreans make up nearly 39,000 of the 154,000 migrants that entered Europe via the Central Mediterranean Route in 2015.
Israeli immigration officials say the fact that thousands of Eritrean immigrants gather to celebrate their country's independence is an indication of their loyalty to the regime. The patriotic gesture seems to contradict the claims of the asylum-seekers that their safety is at risk in their homeland.
"It's time to end this bluff once and for all that the illegal immigrants from Eritrean are asylum seekers," said Yonatan Jakubowicz, a senior official with the Israeli Immigration Policy Centre."The overwhelming majority of them are migrant workers who keep close ties with their families and native country, the majority have stayed, claiming that they are refugees seeking asylum and that their lives would be at risk if they returned home."
Norway is currently struggling with an influx of illegal immigrants. Eritreans, Somalis, and Syrians reportedly make up a majority of the migrants seeking asylum in Norway.
Norway's Ministry of Immigration and Integration expects thousands of Norwegian-Eritreans to travel to Asmara for the independence celebrations.
According to Sylvi Listhaug, Norway's immigration minister, there will be repercussion for the migrants who travel back to Eritrea to mark the secluded country's independence.
Norwegian-Eritreans, who will make the journey to Asmara, will reportedly be monitored. Eritrean migrants without Norwegian citizenship who recently arrived as refugees have not been allowed to return to their homeland for the celebrations.
"It will then be interesting information for immigration authorities. It is clear that once they fled a regime and seeking [sic] protection in Norway, then travel down to salute the same regime, then there is [a] reason to look at this," Listhaug said.
Photo: Raimoq