Human Trafficking Rings Affiliated With Eritrean Diplomats Control Mass Migration Into Europe: IGAD Report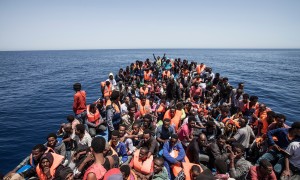 A new report commissioned by the governments of Ethiopia and Sudan has revealed that sophisticated international criminal syndicates involved in human trafficking and smuggling have been controlling the mass migrations of people to Europe from the Horn of African via Libya.
The report – "Human Smuggling and Trafficking on the Horn of Africa – Central Mediterranean Route" was prepared by the Security Sector Program (ISSP) of the Intergovernmental Authority on Development (IGAD) and the Sahan Foundation.
The 39-page report was launched on Monday in Addis Ababa by Matt Bryden, chairman of Sahan.
According to the report, well connected criminal groups are amassing profits from the recent spike in migrants and refugees entering Europe via the Central Mediterranean route.
The sophisticated human trafficking rings are predominantly run by Eritreans who work closely with ethnic Ethiopian, Somali and Sudanese officials to slip people through borders with ease.
"The kingpins who dominate this illicit trade are predominantly Eritrean in nationality, but they collaborate with ethnic Somalis, Ethiopians and Sudanese in order to be able to operate easily across borders," Commander Tuemay Aregawi, Head of IGAD SSP's Transnational Organized Crime Pillar said.
"These networks extend far beyond this region, across Europe, where some of the proceeds of this crime are laundered, and some of them also operate in places like Dubai, Singapore, Hong Kong and the United States."
The study claims that these transnational crime groups are successful due to their strong political connections. According to the report several key Eritrean nationals and diplomats are involved in the human trafficking and smuggling rings.
The study also points to the fact that although Eritrea is one of the smallest countries in the region, it has the largest contingent of migrants in Europe. It is estimated that Eritreans make up nearly 39,000 of 154,000 migrants that entered Europe via the Central Mediterranean Route in 2015.
According to the study, there are two distinct migrant groups fleeing Eritrea. One group travels through the perils of the dangerous route without support from organized rings. The other group has helpers in and outside Eritrea to ease travelling from the heavily secluded country. The travelers allegedly reach out to smugglers through local contacts in Asmara via the internet.
"These facilitators – alleged to be government facilitators – would typically arrange for transportation to Sudan or Ethiopia without any immigration procedure…Some prominent Eritrean human smugglers appear to rely upon the services of Eritrean diplomats abroad," the report reads.
The reports called for an international effort to combat human smuggling and trafficking in the region.
"There are limits to what countries of this region can achieve without cooperation from concerned governments in Europe, as well as intergovernmental bodies such as EUROPOL and INTERPOL," Bryden said.
"The EU should assign a higher priority to cooperation in law enforcement and criminal justice measures, and the UN Security Council should also consider applying sanctions against individuals and entities responsible for human smuggling and trafficking in Libya."
Photo: Jason Florio