Ethiopian Prime Minister Accuses Eritrea of Supporting Armed Groups Seeking Secession of Oromia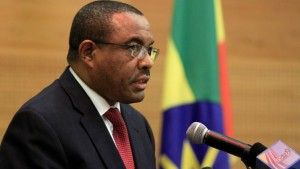 Ethiopia's Prime Minister Hailemariam Desalegn on Wednesday accused Eritrea of supporting armed groups seeking the secession of Oromia, the largest region in the country.
According to the BBC, Hailemariam blamed the destabilization of Oromia on "destructive forces" that have launched attacks targeting security forces and government facilities.
"The people have understood that these destructive forces are on a mission to subvert the system and change the government," Hailemariam said.
The Prime Minister added that the issues in Oromia require a swift response and the government will address the situation as the law dictates. He warned that the government would prevent the growth of any secessionist campaign in Oromia.
"The government has realized that there is need to take a decisive action based on law," he said.
On Monday, Ethiopia dismissed a Human Rights Watch (HRW) report that student protests against a government plan to extend the capital Addis Ababa into Oromia continues.
Communications Minister Getachew Reda debunked claims that the government is violently suppressing the protests, which began in November 2015.
According to a HRW report published on Sunday, Ethiopian security forces have continued to violently crack-down on protesters. Up to 200 people have reportedly been killed in the clashes, the report said.
The report also dismissed claims that the protests against the 'Addis Ababa Integrated Development Mater Plan' stopped after the controversial plan was cancelled.
The international rights group said although the Master Plan was cancelled in January, thousands have been arrested arbitrarily without charge.
However, Getachew described the HRW report as "an absolute lie." He questioned the authenticity of the reports since HWR is not present in Ethiopia.
Although Getachew questioned the authenticity of the HRW report, he acknowledged that the region was still unsettled. He said rather than continued student protests, the government is faced with attacks by armed groups targeting public buildings.
Although the minister did not identify the name of the armed groups behind the recent attacks, he said they were "trying to stir up the emotions in the public."
Photo: Reuters