Ethiopian Politician Charged With Inciting Violence After Facebook Post About Protests in Oromia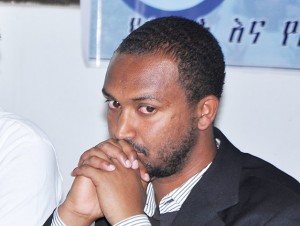 A former spokesman for Ethiopia's main opposition group the Blue Party has been charged with inciting violence after his Facebook post critical of the government's response to the protests in Oromia went viral.
Yonatan Tesfaye was reportedly charged on Wednesday with 11 counts of inciting violence including attempting "to disrupt the social, economic and political stability of the country."
Tesfaye, who has been arrested since December, is also charged with leading the outlawed "Oromo Liberation Front (OLF) to inflame demonstrations."
If he is found guilty, Tesfaye could face about 15 years in prison.
In one social media post, Tesfaye reportedly accused the Ethiopian government of using "force against the people instead of using peaceful discussion with the public."
In February, the Ethiopian government dismissed claims that security forces were violently suppressing the Oromo protests. The protests began in November 2015 over a plan to extend Addis Ababa into Oromia.
The government admitted that its security forces were responsible for some of the violence. However, authorities also accused destructive forces of high-jacking the protests which started peacefully.
Last week, the U.S. voiced concerns over the indictment of 22 members of the banned OLF. The group, which includes students and civil servants, were charged with terrorism under Ethiopia's much criticized Anti-Terrorism Proclamation (ATP).
The defendants were charged with encouraging violence, causing the death of the innocent civilians, destruction of property and being alleged members of the OLF.
Meanwhile, the U.S. has urged Ethiopia to stop using the ATP as a tool to prosecute opposition members.
"We again urge the Ethiopian government to discontinue its reliance on the Anti-Terrorism Proclamation law to prosecute journalists, political party members, and activists, as this practice silences independent voices that enhance, rather than hinder, Ethiopia's democratic development," an official U.S. State Department report said.
Photo: The Reporter