Ethiopia's Historical Consumption of Coffee Threatened by Export Ambitions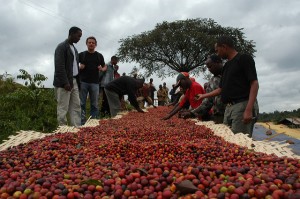 Ethiopian coffee farmers are in a tug-of-war with the government over the amount and quality of coffee beans to be exported and consumed locally.
The Ethiopian government wants to take advantage of the high global demand for coffee and has introduced a plan to increase the total amount of high quality coffee beans exported.
The newly reestablished Ethiopian Coffee and Tea Development and Marketing Authority aims to regulate the coffee trade and make Ethiopia the second largest producer of coffee in the world. Ethiopia is currently fifth.
Despite the financial merits of the government's plan, some local farmers and traders apparently prefer to keep their best coffee beans at home. Ethiopians are the highest consumers of coffee in Africa, where the beans have historically been a cash crop.
Ethiopia's growing economy and rising middle class want to consume the best coffee beans. However, in the country where the much sought after bean was discovered, quality coffee is increasingly becoming expensive.
"In most cases, the domestic price is higher than international prices," said Fikru Amenu, an agent with the Ethiopian Coffee and Tea Development and Marketing Authority. "We are just trying to convince (the traders) to export, because of the harder currency."
Coffee consumption in Ethiopia is cultural and social. The East African country reportedly consumes about half of its entire harvest locally.
According to the U.S. Department of Agriculture (USAD), coffee amounts to a third of Ethiopia's foreign exchange. The Ethiopian government aims to fund its ambitious developmental projects with returns from increased coffee export.
To achieve this goal, the government has set several laws in place to safe guard its plan.
Traders have been mandated to export their best quality beans. Only coffee beans damaged by insects or moisture can allegedly be kept in Ethiopia. A fine of $ 2,000 and a jail term of about five years could be meted out to traders who flout the law.
According to the USAD, the new laws would see Ethiopia's coffee export increase dramatically. However, the policy would also mean a reduction of the amount of coffee consumed locally.
Photo: Flickr/MTC Group