Escaped Lion Attacks 63-Year-Old Man in Kenya's Capital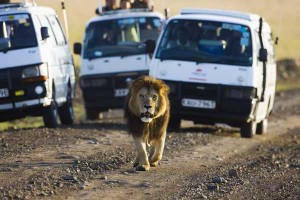 Kenya's Wildlife Service (KWS) on Friday captured a lion which attacked a 63-year-old man after straying from Nairobi's National Park.
The lion named Cheru reportedly attacked the man on a busy street along Mombasa Road. The male lion is said to have become aroused by the reaction of people heading to work.
"People were there, hooting their horns, taking selfies and all that and the lion got agitated," KWS spokesman Paul Udoto said.
The man, who was clawed on the chest and back, is reportedly in a stable condition after he was transported to the hospital.
"He sustained lacerations, quite deep cuts in the left shoulder region and has sustained a small fracture in one of the bones in the area," said Victor Ng'ani, director of Mater Hospital, where the victim is receiving treatment.
The lion has since been returned to the park. KWS officials reportedly induced the lion to move into the depths of the national reserve.
KWS officials are reportedly still patrolling the streets of Nairobi in case there are other escaped lions yet to be spotted.
Kenyans have been confronting stray lions for many years. Instances of stray wild lions have been on the rise lately. Friday's incident is the third time in a month that lions have strayed from the 45-square-miles park Nairobi National Park, which also houses other endangered animals like cheetahs, rhinos and hyenas.
The park, located near Nairobi's central business district, is only separated from heavily populated areas by a road.
Last month, two lions strayed from the park which is reportedly home to about 30 to 40 lions.
"Lions keeping coming out of the park to follow prey," Udoto said. "The area is fenced, and we are trying to find out how this keeps happening."
Photo: Nation Media Group