Lions on the Loose in Kenya Spotted in Heavily Populated Areas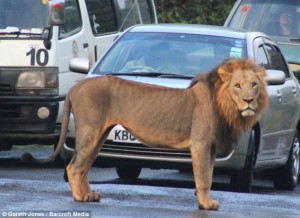 Authorities in Kenya have warned people living close to Nairobi's National Park to stay indoors after six lions escaped the electric fenced area on Friday.
It is still unclear how the big cats escaped from the 45-square-miles park which houses endangered animals like rhinos, leopards, cheetah and hyenas. The park, located near Nairobi's central business district, is only separated from heavily populated areas by a road.
Kenya Wildlife Service (KWS) has revealed that the lions, suspected of escaping after midnight, were spotted on the road by morning.
According to KWS spokesman, Paul Udoto, the lions were also spotted near a hospital in the suburb of Langata at 4.a.m. The big cats were additionally spotted near Kenya's largest slum, Kibera.
A team of wildlife rangers are tracking the lions with hopes of capturing and returning them to the park. Udoto said the officials are "prepared for anything."
"We are depending on the public to report if they sight them," he added.
According to the BBC, helicopters are being used to track the lions.
Meanwhile, residents have been warned to stay indoors and report any new sightings of the lions to a toll free number.
Authorities have warned parents to keep their children indoor until the lions have been captured and safely returned to the park.
"Lions are dangerous wild animals. Don't confront them when you encounter them," Udoto warned.
Kenyans have confronted escaped lions in the past. In 2002, Masaai herdsmen killed six lions from a pride of eight that attacked and killed their goats.
Kenya, like the rest of East Africa, has struggled with the increase of hunting and poaching. The illegal practice has severely wiped-out whole animal populations. About 30 lions currently live in the Nairobi park, and reports estimate that only about 2,000 lions remain in Kenya.