Leaders of Ethiopia, Egypt and Sudan Sign Cooperation Agreement During Meeting on Renaissance Dam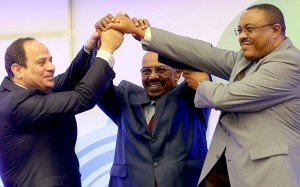 The Presidents of Egypt, Ethiopia and Sudan agreed to join forces on Saturday after a meeting regarding updates on the construction of the Ethiopia Grand Renaissance Dam (GERD).
Ethiopia's Prime Minister Hailemariam Desalegn and Sudanese President Omar al-Bashir met President Abdel Fattah Al-Sisi at the sidelines of the African Investment Conference in Egypt.
Reports indicate that the tripartite meeting led to the establishment of a framework aimed at advancing development and cooperation between the neighboring nations.
According to Alaa Youssef, spokesman for Egypt's presidency, the leaders also agreed to establish a mutual fund to bolster development projects across each country. Areas of cooperation include technology, scientific research, tourism and communication.
The high-ranking meeting also saw an agreement reached for the formation of a monitoring body to oversee the progress of development in each country.
The foreign ministers of Egypt, Ethiopia and Sudan have since been tasked to establishing a legal framework for cooperation.
The meeting also included discussions on the GERD – although meetings regarding the construction of the mega dam are set to begin in six months.
Last week, officials held a tripartite meeting with representative of the two French companies hired to conduct studies on the possible impact of the GERD.
The studies of the potential impact of the GERD, which began in February ,will take at least 15 months to be completed.
Egypt and Sudan, both beneficiaries of the Nile, have expressed concerns over the potential impact of the GERD. Ethiopia has been working with its neighbors to allay their fears concerning the 6,000 MW project since it was initially announced in 2010.
Egypt has repeatedly expressed worry that the construction of the GERD will affect its annual share of freshwater from the Nile.
The GERD is being built on the Blue Nile and is already over 50 percent complete. The mega dam will have a storage capacity of 74 billion cubic meters (14.5 billion gallons of water) annually when it is completed.
Photo: AFP