Ethiopia, Egypt and Sudan Endorse French Firm to Conduct Technical Studies on Impact of Grand Renaissance Dam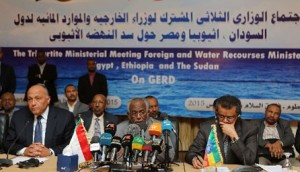 Two French firms are finally set to conduct studies on how the construction Grand Ethiopian Renaissance Dam (GERD) is likely to affect the Nile and its flow.
On Tuesday, the foreign and water resources ministers of Ethiopia, Egypt and Sudan signed an agreement contracting French engineering and consultancy firm Artelia. The ministers reached the agreement after their meeting in Khartoum was extended for a third-day.
In April, officials selected two firms to conduct technical studies on the possible impact of the GERD on the Nile. However, one of the candidates Deltares, a Dutch firm, later backed off. The other contractor, French firm BRL, is still on course for the job.
The studies on the potential impact of the GERD, which is reportedly scheduled to begin in February, will take at least 15 months to be completed.
Egypt and Sudan, both beneficiaries of the Nile, have expressed concerns over the potential impact of the GERD. Ethiopia has been working with its neighbors to allay their worries concerning the 6,000 MW project since it was initially announced in 2010.
Egypt has repeatedly expressed worry that the construction of the GERD will affect its annual share of water from the Nile.
The GERD is being built on the Blue Nile and is reportedly over 50 percent complete. The mega dam will have a storage capacity of 74 billion cubic meters (14.5 billion gallons of water) annually.
Ethiopia, Egypt and Sudan signed a cooperation agreement in March. The Khartoum deal aims at protecting the interests of downstream countries while the dam's reservoir is filled.
The agreement also includes plans to provide compensation for damages. This compensation includes electricity generated by the GERD.
"We are satisfied with the results of this meeting and look forward to achieving a strategic partnership," said Egyptian Foreign Minister Sameh Shoukry.
"We see the agreement over these companies as progress and look forward to actualizing the interests of the three countries. We believe the dam will be useful to the three countries," said Ethiopian Foreign Minister Tedros Adhanom.
Photo: AFP