Muslims Protect Christian Passengers at Gunpoint in Kenya Bus Terrorist Attack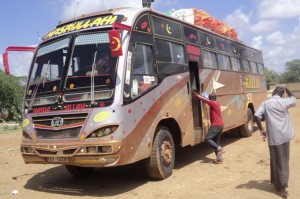 An ambush on a bus traveling through Kenya's northeast border with Somalia by gunmen suspected to be al-Shabab militants is making headlines around world. The gory of the attack is not the focus, rather a rare and daring display of unity against religious extremism.
The incident reportedly happened on Monday in Mandera County located in northern Kenya after the suspected gunmen shot the bus several times.
At the risk of death, a group of Kenyan Muslims protected their fellow Christian passengers by refusing to split into groups – Muslims on one side, Christians and other religious devotes on the other.
"We stuck together tightly," Abdi Mohamud Abdi, a Muslim passenger aboard the vehicle, told Reuters. "We even gave some non-Muslims our religious attire to wear in the bus so that they would not be identified easily. "
"The militants threatened to shoot us but we still refused and protected our brothers and sisters. Finally they gave up and left but warned that they would be back".
The bus was reportedly heading for Nairobi. The road is considered very risky and has seen several deadly attacks in the past.
About 28 non-Muslim passengers were reportedly killed by militants on the same route last year. After the attack, officials beefed up security in the area. Police escorts were ordered to accompany buses traveling the road.
Joseph Nkaissery, Kenya's interior cabinet secretary, said in this particular incident the police vehicle broke down and the bus continued the journey alone.
A few hours into the journey without police escorts, the bus came under fire. Ten suspected al Shabab militias mounted the bus. They commanded the passengers get down and separate themselves into groups.
However, the passengers, who were mostly women, refused. They dared the militants to kill them all.
"The locals showed a sense of patriotism and belonging to each other," Mandera Governor Ali Roba said.
Two people were killed before the militants escaped as another vehicle approached. Three other passengers sustained injuries in the attack.
The Somali Islamist militant group al-Shabab has carried out fatal retaliatory attacks against Kenya. The group, which aims to make Somalia a fundamental Islamic state, say the attacks are in retaliation for Kenya's participation in the African Union peacekeeping efforts in the war-torn country.
The group with links to al-Qaida also claims northeastern Kenya to be a part of Somalia. Shabab say the attacks against Kenya will continue until Kenya withdraws its troops from Somalia.
Photo: Al Jazeera