Ethiopia's Supreme Court Rules for Andargachew Tsige to Testify in Terror Trial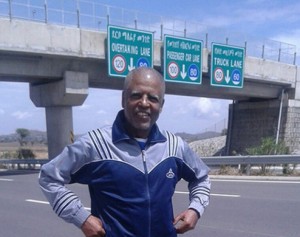 The Federal Supreme Court of Ethiopia has dismissed an appeal seeking to prevent Andargachew Tsige from appearing before court as a defense witness.
The ruling is the latest news regarding Tsige, a 60-year-old Ethiopian born British national, who has been on death row in the country since 2014.
Tsige's arrest and subsequent imprisonment has threatened to destroy the relationship between Ethiopia and the UK. Despite numerous calls from rights groups and attempts by the British government to secure his release, Ethiopia has not budged.
Tsige's whereabouts have been the subject of controversy. The Supreme Court's ruling came after Tsige consistently failured to appear before a court to testify as a witness.
In July, the Federal High Court reportedly ordered the Addis Ababa Prison Administration to present Tsige to testify. The court's request came after two defendants in an ongoing terrorism trial listed Tsige as their defense witness. The defendants alleged to have met Tsige in Eritrea.
However, Tsige, who was convicted of terrorism and sentenced to death in absentia, has not made any appearances in court since July 20th.
Ethiopia's prison administration offered several reasons why Tsige has failed to appear before the court. However, in October, officials disclosed that Tsige was not under their custody.
Federal prosecutors, who are unhappy with the Supreme Court's ruling, will now take the issue to the cassation bench.
The two defendants in the terrorism trial – Dehnahun Beza and Mindaye Tilahun – have requested that the court demands an explanation about Tsige's whereabouts. The defendants are requesting that his whereabouts should be demanded from the Prime Minister, the Anti-Terrorism Taskforce and the British Embassy in Ethiopia.
Ethiopia's Prime Minster Hailemariam Desalegn has reiterated that Tsige, a former leader of opposition group Ginbot 7, is still in prison. Dessalegn made the remarks last week during an exclusive interview with The Reporter.
When he asked was why Tsige had failed to appear in court, Dessalegn said "It is up to the court to ask the prison administration."
Since his incarceration, the father of three has not been allowed to receive visitors. Only the UK ambassador to Ethiopia has reportedly been allowed to visit him. However, these visits have been rare.
Although previous reports indicated that Tsige's health was deteriorating, Addis Ababa has not supported such claims.
Tsige has appeared on Ethiopian national television on three occasions in interviews where he reportedly revealed secrets. However, his family and supporters say the interviews were heavily edited and political.
Yemi Hailemariam, Tsige's partner and mother of his children, said the family has no idea about his wellbeing or location. She has reportedly spoken to him only once since his incarceration.
"He's in prison but we have no idea where he is being held," Yemi told the Guardian. "He said he was okay, but I'm sure the call was being listened to. He had been in Dubai and was flying on to Eritrea when the plane stopped over in Yemen. He hadn't even been through immigration. We think Yemeni security took him and handed him over to the Ethiopians."