Genzebe Dibaba Receives 2015 IAAF World Women's Athlete Award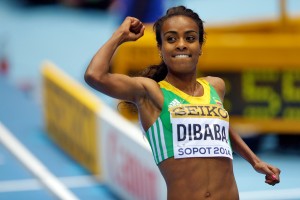 The International Association of Athletics Federations (IAAF) has named Ethiopian middle and long distance runner Genzebe Dibaba as the female IAAF World Athlete of the Year 2015.
24-year-old Dibaba earned the award on Thursday after a stellar year on the tracks. In July, she broke the 1500 meters world record in Monaco at a time of three minutes and 50.07 seconds.
She also broke a 12-year African record for 1500m in Barcelona after finishing at a time of 3:54:11.
Dibaba won gold in the 2015 World Championships in Beijing after winning all three of the 1500m races she competed in. She also won a bronze medal in the 5000m event in Beijing.
Dibaba, younger sister of the legendary athlete Tirunesh, is the second Ethiopian woman to win the IAAF honor. Meseret Defar won the prestigious award in 2007.
"It feels so good to be the World Athlete of the Year," Dibaba said. "I am humbled and honored to receive this award from the IAAF".
"After being the a finalist and narrowly missing out on this award one year ago, I am very proud to be recognized by the fans and experts of our sport."
Dibaba said she enjoyed competing in events across the world. She paid a tribute to fellow athletes Dafine Schippers and Anita Wlodarczyk. Both athletes were finalists for the IAAF award.
Dibaba also thanked those that voted for her to win the award. She expressed gratitude to her coaches, sisters, agents and "all the people from Ethiopia!"
"My focus in 2016 will be the IAAF World Indoor Championships in Portland and as preparation for that I will try to break the world indoor mile record in Stockholm on 17 February," she said.
The record that Dibaba is looking to break was set a time of 4:17:14 by Romanian athlete Doina Melinte in 1956.
Meanwhile, American decathlete Ashton Eaton was named the male IAAF World Athlete of the Year. Both Eaton and Dibaba did not receive their awards at an annual gala dinner in Monaco.
The IAAF had to break their tradition this year due to the doping scandal that has gripped the sport.
"While the athletics family is not gathering together as usual in Monaco, we rightly celebrate the marvelous 2015 achievements of the athletes," under-pressure IAAF president Sebastian Coe said.
"I offer congratulations to our World Athletes of the Year, world champions Ashton Eaton and Genzebe Dibaba. Your performances in 2015 are an inspiration and examples of true sporting excellence."