Kenyan Runners Occupy Athletics Head Office to Protest Doping and Corruption Allegations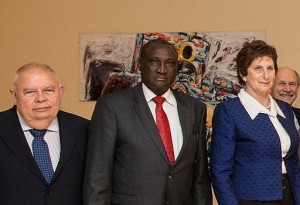 Amid allegations of corruption, mismanagement and doping, a group of Kenyan athletes stormed the headquarters of the country's athletics federation on Monday in protest.
The protesters – about 50 athletes – called for the resignation of several high-ranking members of Athletics Kenya. The runners, affiliated with the Professional Athletics Association of Kenya, reportedly refused to leave the premises of the headquarters until their demands are met.
The protesters are said to have stormed the Nairobi building around 7:30 and barricaded themselves inside after exiting staff members. The runners called for the president of Athletics Kenya Isaiah Kiplagat and vice David Okeyo to quit.
Julius Ndegwa, secretary general of the Professional Athletics Association of Kenya, said athletes were concerned about the rising levels of doping and corruption in the sporting body.
"Everybody is complaining against him, even at the IAAF, everybody, even Nike," Ndewga said referring to Kiplagat. "The doping menace has been caused by him under his office, so we want a clean sport and we need change to happen with immediate effect and that would be today."
"We are looking forward to being led by athletes, those who understand the pain of running," Ndewga said.
Kiplagat, Okeyo and Joseph Kinyua, a former Athletics Kenya treasurer, have been further accused of embezzling sponsorship monies. The three have denied the accusations that they pocketed $700,000 from Nike. The sports-apparel manufacturer has also refuted the accusations.
Nonetheless, officials are currently looking into the matter.
Kenyan Athletics is under a lot of pressure. Monday's protest follows last week's revelation that the World Anti-Doping Agency (WADA) may suspend Kenya from all international sporting competitions. If the ban is established, it would last for four years and will see Kenya miss the 2016 Rio Olympics.
WADA and the International Association of Athletics Federations (IAAF) have been investigating cases of bribes and doping in Kenya since March.
"It is pretty clear that Kenyans have enjoyed huge success in the endurance events and it is also pretty clear that there is a lot of performance-enhancing drugs being used in Kenya," said Dick Pound, former WADA president who led an independent commission report into doping among Russian athletes.
The protesters seem to have answered Pound's call when he stressed that the issue of doping in Kenya should be a concern for all.
It's clear that Athletics Kenya has a lot of work ahead in regards to doping and other allegations of corruptions to avoid the WADA ban.