Uchumi Supermarkets: Staff and Suppliers Protest Over Unpaid Salaries, Mounting Debts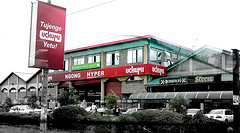 NAIROBI – Amid financial woes, a group of staff and suppliers of Uchumi Supermarkets, one of the biggest retailers in East Africa, are protesting over fears that they would not be paid.
The chain store, based in Kenya, has reportedly closed some of its outlets in the region due to accruing debts.
More than 300 disgruntled employees and suppliers gathered outside the retailer's outlet in Dar es Salaam on Tuesday to demand their wages. But management urged the angry crowd to go home and return on Wednesday, when a solution to the issue may be ready.
The extent of Uchumi's financial troubles is unknown. However, reports of mismanagement have been making rounds in the media. The retailer is believed to have an accumulated debt of about Ush33 billion (nearly $9 million) throughout its network of stores in the region.
On Monday, court bailiffs raided Uchumi supermarkets in Uganda's capital, Kampala. The bailiffs, who were acting on the orders of a Ugandan commercial court, were looking to seize some items in order to compensate for the company's failure to pay a supplier. Some properties were allegedly destroyed as the court officers attempted to claim some merchandise for Ugachick, a poultry supplier.
According to the bailiffs, Uchumi owes Ugachick more than Ush 185 million (over $50,000) for supplies made between March and July this year.
It took the intervention of the landlord of the Garden City mall – where Uchumi has an outlet – to prevent the bailiffs from seizing and destroying more properties.
"These people have done a lot of damage to the place. They should have come first to the management and sit on a round table to settle the matter. Let us wait for tomorrow because they said they are coming back," Mr. Amit Talreja, Garden City landlord, said.
"Our court warrant is still valid. Although they have stopped us from taking the property, we are going to execute it again with the help of the police because no one is above the law," one of the bailiffs George Tumusiime said.
Uchumi has incurred huge loses in the past two years, and many experts believe mismanagement is the cause of retailer's financial troubles.
"It has been a challenging period for them because they found it difficult to compete in places away from Kenya – their primary market," Kenyan financial analysts Aly-Khan Satchu told the BBC.
The recent store closures are reportedly part of the plans of Uchumi's new chief executive Julius Kipng'etich to revive the company. Kipng'etich is looking to sell some of the retailer's most lucrative assets in Kenya to raise enough funds to settle its debts.
Uchumi has closed three of its six outlets in Uganda due to its mounting financial troubles.