Chinese 'Ivory Queen' to Fight Ivory Smuggling Charges in Tanzania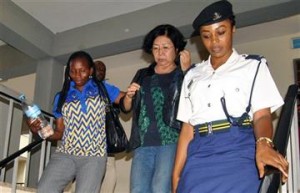 DAR ES SALAAM – A 66-year-old Chinese woman who was arrested by a specialized wildlife task force in Tanzania last week will fight charges that she masterminded a multinational crime syndicate involved in smuggling over 700 tusks to Asia.
On Monday, Yang Feng Glan's lawyer said his client – a prominent business woman in Tanzania – is innocent of the charges and as such will fight the case.
Glan, who had been living in the country since the 1970s, appeared before a Dar es Salaam high court on Thursday. She and two Tanzanian men, her accomplices, were charges with smuggling 706 pieces of ivory worth about 5.44 billion Tanzanian shillings ($2.51 million).
Glan, (nicknamed the " Ivory Queen") is also accused of heading the international smuggling ring for 14 years, between 2000 to 2004.
Prosecutors say she "intentionally did organize, manage and finance a criminal racket by collecting transporting or exporting and selling government trophies."
Glan own a popular Chinese restaurant in Dar es Salaam. She is also the secretary-general of the Tanzania China-Africa Business Council.
Authorities say she used her restaurant as a front for smuggling tusks. Glan reportedly transported ivory from the villages into city through her restaurant's food supply network. She also used her connections with elites in East Africa and Asia to smuggle elephant tusks.
"Ms Glan is innocent of all charges.. We will fight the allegations against her in court," her lawyer, Nehemia Mkoko said.
According to Reuters, a court rejected Glan's plea for bail early Monday because it did not have the jurisdiction of a high court to grant the request.
"My client has not been allowed to enter any plea on the charges against her because the (lower) Kisutu court does not have jurisdiction to try this case. When the case is transferred to the high court for hearing, she will enter a plea of not guilty," Mkoko said.
Glan, who speaks fluent Swahili, first came into Tanzania to work as a translator when China was building a rail road in the country in the 1970s. If found guilty she could be sentenced to 30 years in prison.
The National and Transnational Serious Crimes Investigation Unit (NTSCIU) arrested Glan after investigating her for nearly a year. She was detained last week after officials surrounded her Dar es Salaam residence for seven hour.
The illicit activities of Glan and her network are closely tied to the reducing elephant population in Tanzania. Authorities say Glan is one of the most important figure ever arrested since the start of the fight against poaching in East Africa. She reportedly assisted poachers to by buying guns and other weapons used in hunting elephants.
The Elephant Action League, a conservation group based in the United States, welcomed Glan's arrest and prosecution. The group says Tanzania's poaching epidemic is on an increase due to widespread corruption.
"It's a very important arrest, the most important in Africa in recent years," said Andrea Crosta, Elephant Action League's Executive Director. "The hope is that she will talk and lead the task force not only to her Chinese business partner, but also to local corrupt government officials who probably knew about it, and helped her out."
Tanzania had one of the largest elephant populations in Africa. However a June census revealed that 60% of that population had been killed by poachers. In the past five years, between 2009 and 2014, elephants in the region have reduced from 109,051 to 43,330.
Conservation groups have blamed the reducing elephant population on the rising demand for ivory, particularly from Asia. The demand for ivory in countries like China and Vietnam has spiked in recent years with the burgeoning middle class. The ivories are used to make expensive jewelry and other ornaments.
In February, China announced a one year ban on the importation of African ivory carvings in a bid to fight poaching and smuggling.
Photo by AP