The many hats of Efrata Kasassa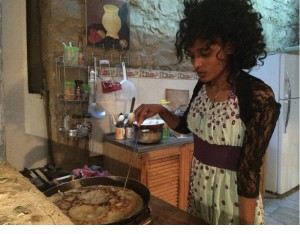 People making the journey from the Horn of Africa often come to Yemen to escape poverty, persecution, war and state violence. Efrata Kasassa, 22, came to Yemen from Ethiopia to be a writer.
Her first book, which she hopes to self-publish, is also about an Ethiopian girl who migrates to Yemen. Hardly known as a land of opportunity, Yemen was Efrata's destination because of its proximity to Ethiopia. It's often a transit country for migrants seeking better employment prospects in the Gulf and elsewhere.
But for Efrata, Yemen was the destination. She knew people who had migrated to Yemen, and was confident she could receive help from the Ethiopian embassy to publish her work. In order to raise funds, she has taken a number of jobs, mostly cleaning homes and offices. She is also the barista at the cafe of a cultural foundation in Sana'a, the Basement.
Her work schedule doesn't leave a lot of room for writing, but Efrata did not come all the way to Yemen to lose sight of her goal.
"I write everyday, in the evenings. I will sacrifice sleep before I stop writing. I usually stay up until 3 or 3:30 a.m."
Born in Addis Ababa, Efrata traded one poor, conflict-ridden country for another.
"In Ethiopia, it was hard, but it's my country—at the very least, I know my way around, I know how things work. In Yemen, things are hard, but I am a stranger. At least in Yemen, though things are difficult here, I can work. I can make money to publish my book," she said.
Migrating to Yemen has given Efrata more than the opportunity to earn a little money. The journey of migration, building a life in a country that isn't hers, leaving university to clean houses, and all the interactions with people along the way have naturally become part of her story and are recurring themes in her writing.
"When one immigrates, everything gets turned upside down," she said. "I see everything differently now. Everything is new. I've seen so much here, I write a lot more now."
One of the issues Efrata faces in Yemen is rampant racism and classism. "They don't see us as people. There are nice, respectful Yemenis, but others see you only as cleaner, and think that's all you are and all you're ever going to be."
Efrata left Ethiopia one and a half years ago—making her a relatively new addition to the Ethiopian diaspora. Lacking in her writing is the sort of nostalgia familiar to those works produced by those who have more permanently put down roots outside their countries of origin.
What does she miss in her homeland?
"My mother and university. That's all."
Efrata was studying civil engineering in Addis when she decided to throw herself into her writing and to pursue the money she needed to publish her book, she said.
"I didn't know any Arabic when I arrived, but at my first job cleaning a Yemeni family's home, I had to learn. I then worked at a restaurant, and everyone only spoke Arabic, so I pushed myself."
A year and half after arriving, Efrata spoke fluent Arabic in an interview with the Yemen Times.
She describes her book as a romance novel. Her protagonist, Sabella, is 16 years old. Sabella is smart—so smart, that her family has high expectations for her future, and, by association, theirs. Efrata's book revolves heavily around overcoming hardships.
A strong emphasis is placed on female empowerment, and there are many examples of marginalization. In Sabella's world, repression of women comes from the family, the state, lovers, smugglers, employers and others.
Her story starts with a secret romance. At 16, Sabella falls in love with a boy, Zarhun. He only learns of Sabella's feelings two years later. Sabella and Zarhun begin living together, but when he discovers she is pregnant, Zarhun abandons her. At 17, she has a child, and soon after starts selling sex for money. The book describes the prostitution scene in Addis, and how very young girls, many of them teenagers, get caught up in it.
The story is also about Sabella's migration to new a country as a migrant and single mother. It describes the harrowing sea voyage many refugees and migrants take to reach Yemen's shores, and the violations and hardships they endure once they arrive.
"A woman must not lose her self-worth and abandon her aspirations for a man, she must hold on to her dream and remain strong. This is the true path," says Efrata's narrator.
Efrata has been writing non-fiction since she was ten years old. It wasn't until a classmate received a scholarship for a writing program in Switzerland that it occurred to her that she could pursue her craft as a profession, she said.
"[My friend] loved to write, and then the idea came into my head that I could be a writer too."
Supporting oneself through writing—even in the West, where the opportunities and privileges are a world away from those available in Ethiopia—is a risky move. The percentage of writers who can make a living and sustain themselves based only on their writing is low. For most writers, a day job is a must.
For now, Efrata is hoping to publish 100 copies of her book.
But the publishing industry in Yemen leaves a lot to be desired, writers say. Unless supported by a sponsor or contracted through a publisher, writers pay the printing costs and distribute the works themselves.
Nabeel Obadi, head of the Yemeni Publishers Union, an independent body established in 2007, told the Yemen Times in a previous interview that "the most a publisher can hope for in terms of book promotion is a good turnout at a book fair."
Efrata says she will distribute the book herself, and is determined to also have it distributed in Ethiopia.
She has a community of support here, though that support is not financial.
"The embassy would have helped if they had the money, but they spend it on more urgent issues, like helping refugees. They support me in other ways, though. They invite me to read my writing at embassy events."
She appreciates the support, but says she can only count on herself.
"The state can't do anything for you. Ethiopia can't, Yemen can't. I make my own way."
Source: Yemen Times