President Uhuru signs Finance Bill and Victim Protection Act 2014 into law
By PSCU/O'brien Kimani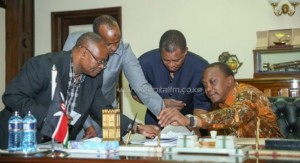 NAIROBI (KBC) – President Uhuru Kenyatta has signed into law the Finance Bill 2014 introducing sweeping changes to the administration of taxes in the country.
The bill was passed by Parliament on 28th, August, 2014.
The new law will see the re-introduction of capital gains taxes charged at 5 percent and 6 percent withholding tax on any money owed to contractors.
The Act's main aim is to give legal backing for collection of taxes to finance the 1.78 trillion shillings budget in the current financial year.
The Finance Act 2014, which amends sections of the law relating to taxes and their applications, covers Income Tax, Value Added Tax, Customs and Excise and Taxation of Extractive Industries has generated a heated debate due to some proposals in the bill had.
These include the proposal to tax earnings from the extractive industry and profits of sale of assets like land and houses. The law gives the taxman legal teeth to start levying five percent tax on profits realized from the sale of assets and mining sector effective from next month.
The move is expected to help the Kenya Revenue Authority collect more than one trillion shillings to finance the 1.78 trillion shillings 2014/15 budget. National Treasury told parliament that the capital gains tax would help KRA net an additional 7.5 billion shillings in revenue to fund infrastructure projects in the country.
The law also gives more powers to the Competition Authority of Kenya in determining a dominant player in the Kenyan market. The act now defines a dominant player as a producer, supplier or a distributor who controls more than fifty percent of the Kenyan market.
The Value Added Tax Act will see state institutions withhold six per cent of any money they pay to contractors, so that they minimize the VAT refund claims.
The President also signed into law The Victim Protection Act of 2014 that gives effect to Article 50(9) of the Constitution.
The two Bills were presented to the President for signature at State House, Nairobi by the Speaker of the National Assembly Justin Muturi and the Clerk of the National Assembly Justin Bundi.