Ethiopia quells Egyptian fears over renaissance dam
By Nigel Wilson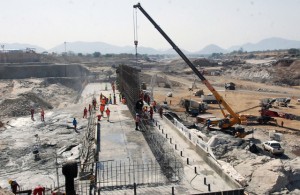 Egypt's foreign minister returned from Ethiopian capital Addis Ababa confident that the two countries would work together to protect Egypt's water rights as the construction of the Grand Renaissance Dam goes ahead.
Sameh Shoukry said his Ethiopian counterpart showed understanding towards Egypt's concerns about the massive project.
"The basis of our talks was built upon the recognition of Egypt's water rights and needs; those needs cannot be touched because they are related to the Egyptian people's life," said Shoukry, as quoted by Egypt's state news agency MENA.
The two countries have been at odds over the construction of the Grand Renaissance Dam since 2013.
Ethiopia began work on the project to divert the Blue Nile late last year. That river eventually joins with the White Nile at Khartoum in Sudan, where it forms the river Nile and flows on through Sudan and Egypt.
Egypt is concerned the project could damage the flow of water on its stretch of the river Nile. Cairo also claims historic rights to the river, dating back to treaties from 1929 and 1959, which it says give it the right to veto any projectsupstream.
Egypt had previosly accused its southern neighbour of launching a water war, which could ultimately lead to a nationwide water shortage and crop failures, electricity shortages and political instability.
However, with construction of the dam going ahead, Cairo has struck a more conciliatory tone in recent weeks.
Photo by Jamal Saidi, REUTERS.