African leaders in Kenya for AU Security Summit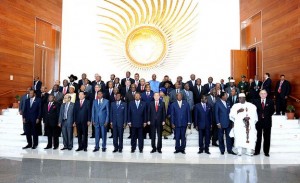 BERNAMA-NNN-PANA (Nairobi)  – Today six Presidents are  meeting in Kenya for the one-day African Union (AU) Peace and Security summit on terrorism.
The Presidents of Chad, Niger, Nigeria, Somalia, Tanzania and Uganda, Burundi's Vice President as well as the Prime Ministers of Namibia and Algeria, will lead their countries' delegations.
The delegations of The Gambia, Ethiopia, Libya and South Africa will be led by ministers, while Ambassadors from Equatorial Guinea and Mozambique will represent their countries, the ministry said.
The AU has expressed deep concern over the threat posed by terrorism in Africa, particularly in the Sahelo-Saharan region, Horn of Africa, including Somalia, Kenya and Djibouti, as well as in the Central African region, with attacks carried out by the Lord Resistance Army (LRA).
The concerns were captured in the AU's decision on the Report of the Peace and Security Council (PSC) on its Activities and the State of Peace and Security in Africa during the 23rd AU Summit in Malabo, Equatorial Guinea, June 26-27, 2014.
The Assembly strongly condemned the attacks carried out by various terrorist groups and expressed its outrage at the cowardly kidnapping, by Boko Haram, of over 200 school girls in northern Nigeria.
The Ministry said the objective of the Nairobi meeting is to undertake an in-depth review of the situation and the ongoing AU's efforts to combat terrorism in Africa within the framework of the AU normative and operational instruments.
"In view of the seriousness of the threat posed by terrorism on the continent, the Assembly stressed the urgency of renewed efforts towards the effective implementation of the AU counter-terrorism framework," the statement said.
This includes the signing and ratification of the relevant instruments, notably the 1999 Algiers Convention on the Prevention and Combating of Terrorism and its 2004 Protocol, which entered into force on Feb 26, 2014.
In this respect, the Assembly requested the PSC to devote a meeting, at Summit level, to consider the issue of terrorism.
It is against this backdrop that the Republic of Chad, as Chair of the PSC for the month of September 2014, planned the PSC Summit on terrorism in Africa taking place in the Kenyan capital.
The meeting is expected to agree on concrete steps to enhance the ongoing efforts to effectively address the threat of terrorism.
The meeting is open to all AU member states, regional economic communities, the Committee of Intelligence and Security Services of Africa (CISSA), the United Nations (UN), the European Union (EU), the League of Arab States and the five Permanent Members of the UN Security Council.
It is also open to representatives of the World Bank, the Organisation of Islamic Cooperation, the Organisation for Security and Cooperation in Europe (OSCE), as well as Spain and Germany.
Turkey and the United States will attend the meeting as the co-chairs of the Global Counter-Terrorism Forum (GCTF).