Head of UN mission in South Sudan to resign in July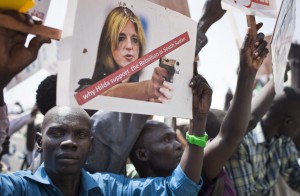 Hilde Johnson, the Special Representative of the Secretary General in South Sudan and head of the United Nations Mission in the country, has announced that she will step down at the end of July.
Ms. Johnson made this revelation during a meeting with President Salva Kiir on Friday morning. She noted that she has overstayed her original tenure due to the extension of the mission's original mandate, according to local sources.
There have been several calls for the ex-Norwegian politician to abdicate her post due to the rift between the United Nations Mission in South Sudan (UNMISS) and the South Sudanese government. The UNMISS has been accused of aiding the rebels and the neutrality of Ms. Johnson has been put to question due to her reportedly cordial relationship with Riek Machar.
Ms. Johnson has headed the UN's mission to the world's youngest nation for nearly 3 years. The UNMISS, formed in 2011, is generally tasked with assisting the South Sudanese government consolidate peace and facilitate its state-building plans.
However, Ms. Johnson recently explained that the mission has had to go beyond its mandate and resources to intervene "in a different" way since the ongoing insurrection broke out in December 2013.
She noted during a speech to commemorate the UN's international peacekeepers' day on Thursday, May 29th, that the mission opted to uncharacteristically open its "gates to thousands of civilians seeking sanctuary in our bases. With this action, we also contributed to stopping a cycle of violence spinning out of control."
Earlier in the week, the United Nations Security Council voted to extend the mandate of the mission in South Sudan until November 30th. The council also directed the UNMISS to prioritize the protection of civilians and strive to prevent a fresh outbreak of violence in the devastated country.
Following the revelation of Ms. Johnson's resignation, many pundits have speculated that the mission will undergo changes. While Ms. Johnson has confirmed that indeed there will be some changes to the mission, she has failed to disclose any details on the impending modifications. However, She told the press that the she had discussed the security council's new resolution on South Sudan with President Kiir during their meeting today.
More than 1 million people are reported to have been displaced from their homes since fighting erupted in the country on December 15th. Reports indicate that up to 90,000 civilians are currently being sheltered in overcrowded UN compounds across the country.
Photo/Mackenzie Knowles-Coursin/AFP