Kenya: Human Right Watch demands an end to operation 'Uslama Watch'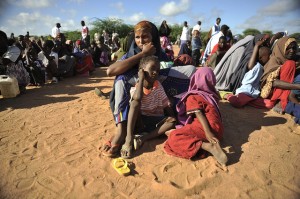 New York-based Human Rights Watch (HRW) has called on the Kenyan government to immediately cease a security operation aimed at eliminating illegal migrants that has attracted widespread criticisms for alleged human rights violations.
In a statement released on Tuesday, May 13th, HRW reveals that since operation 'uslama watch' commenced in the beginning of last month, reports have emerged of police officers raiding homes and shops and looting them. The police have also been charged with arbitrarily taking people into custody, destroying/ignoring their proof of legal residence and extorting them to secure their release.
HRW has also accused Kenyan authorities of detaining suspects without any charges in deplorable condition beyond the legal 24-hour limit.
Reports indicate that once in custody, the suspects are screened to determine their refugee status before a decision is made if they are to be deported, released or transferred to a refugee camp.
However, HRW has described the screening process as "slow and nontransparent."
Although more than 4,000 people have allegedly been arrested since last month, reports indicate that less than 300 have been deported, while over 400 have been transferred to other refugee camps and only about 313 are set to face charges.
Reports indicate that since 2012, Kenya suspended the registration of new asylum seekers, leaving the responsibility to the United Nations High Commissioner for Refugees (UNHCR). However, the UNHCR was reportedly not consulted prior to the ongoing operation and have been prevented from visiting the detainees. This has led many pundits to question the government's process of determining legally registered asylum seekers among the detainees.
Hundreds of people throng into Kenya from neighboring countries yearly to escape persecution and to take advantage of the country's booming economy. This has resultantly placed undue pressure on refugee camps across the country. The authorities have reportedly therefore permitted registered refugees who can fend for themselves to move out of the camps.
Reports indicate that a large percentage of the registered refugees currently in custody will fall under this category. However, the UNHCR has warned Kenyan authorities against forcing the refugees back to the overcrowded refugee camps. The organization has also cautioned Kenyan authorities against scapegoating Somalis and enforcing blanket encampment measures.
Similar sentiments have been expressed by HRW's Africa director, Daniel Beleke, who noted that "Kenyan authorities are carrying out collective punishment under the guise of fighting terrorism." He went on to explain that the ongoing crackdown "does nothing to improve security."
HRW has also warned the Kenyan government that it risks violating its responsibilities to refugees under the country's laws and other international regulations of which it is a signatory.
"Forcibly returning someone to a threat of persecution or to a place where a person would be at real risk of torture or cruel, inhuman, or degrading treatment is refoulement and is prohibited under international law" the group notes.
Despite widespread condemnation of the exercise, Kenyan authorities have shown no signs of ending it soon. Reports indicate that the authorities are yet to comb many communities in the coast and central Kenya, which are suspected to be favoured hiding places for the terrorists.
Photo/R. Gangale/UNHCR