Somali fishermen get ID cards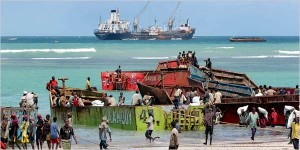 The Somali government has commenced a plan to issue fishermen with identification cards to eliminate the possibility of them being mistaken for pirates.
Puntland's Ministry for Fisheries and Marine Resources has revealed that about 2,000 ID cards have been doled out to fishermen in the breakaway state over the past month, according to a report by Radio Ergo.
Reports indicate that fishermen are arrested and sometimes shot at by foreign naval vessels patrolling the Indian Ocean who suspect they are pirates.
Although piracy has significantly been reduced from the coastline of the horn of Africa, reports indicate that attacks on ships persists.
In the past, Somali fishermen have accused foreign trawlers of illegally fishing in large scale from the country's shoreline. Foreign vessels are also alleged to have dumped toxic radioactive waste in the country's waters – forcing fishermen to venture farther into the sea to increase their chances of securing a bountiful catch.
According to some pundits, the surge in crime in the Indian Ocean can be directly traced to these issues.
However, with the deployment of several naval forces  to the country's 2,000 mile-long coastline, these complaints have slowly whittled away.
Puntland's Minister for Fisheries and Marine Resources, Abdninoor Elmi Mohamud, has disclosed that 2,000 more ID cards are set to be issued before the end of this month. However, no timeline has been revealed for the extension of the scheme to fishermen in other parts of Somalia.
At the recent EU-Africa Summit, Somali officials reportedly held high level talks with their European counterparts with the aim of creating a partnership to spur growth in the fishing industry.
Photo/Mindthis.