2 Kenyan aid workers rescued from al Shabab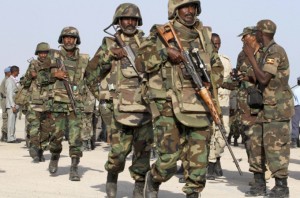 The Kenyan Army under the African Union Mission in Somalia (AMISOM) command have reportedly rescued 2 aid workers kidnapped by Islamic militant group, al Shabab, in 2011.
Reports indicate that the two men, identified as James Kiarie and Daniel Njuguna, were found in an undisclosed location in Somalia disoriented and traumatized.
Army spokesman, Willy Wesonga, has told the press that "The two aid workers were working near the border when they were kidnapped. Our soldiers working in Sector Two managed to rescue them last evening and they were airlifted to Dhobley."
The two men were reportedly captured close to the Dabaab refugee camp on the Kenya-Somalia border.
Reports indicate that Kiarie is an employee of Care International, while Njuguna is part of a logistics group and was allegedly delivering medical supplies before he was kidnapped.
Wesonga denied reports that the duo were set free after accepting Islam in February.
Kenyan Defence Force has tweeted to disclose that the two men are currently receiving medical care at the Dhobley Level Two Hospital after which they are expected to be transported to Nairobi to be reunited with their families on Saturday.
Attacks on the facilities of aid organizations as well as the kidnapping of their workers has forced many of them to completely abandon direct operations in the war torn country.
Photo/Reuters.