Supreme Court hears case against Kampala's Mayor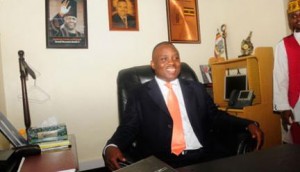 The Supreme Court today tabled the application of the embattled Lord Mayor of Kampala, Erias Lukwago, challenging an injunction against his return to office.
Lukwago appealed to the Supreme Court to temporarily suspend the enforcement of the ruling of acting Chief Justice Steven Kavumba against his reinstatement in office.
Last week, the acting Chief Justice granted the application of Attorney General, Peter Nyombi, challenging a High Court ruling that permitted Lukwago to return to office until a petition against his dismissal is ruled on.
Peter Walubiri, the lead legal representative of Lukwago, told the court that "There are illegalities everywhere in Kavuma's ruling, he was a lone judge and considered matters that weren't before him," according to the Daily Monitor's live tweet of the court proceedings.
Reports indicate that the five judges have decided that there is no merit to the objections against the hearing and have postponed the trial to April 24th.
The Lord Mayor of Kampala was dismissed from his post in 2012 after a tribunal report accused him of abuse of office.
However, many opposition members and pro-Lukwago commentators have described his impeachment as a ploy by the government to replace him with someone more sympathetic to the ruling National Resistance Movement (NRM).
Meanwhile, Lukwago has also requested that the Supreme Court issues an injunction against any plans by the Electoral Commission (EC) to begin preparations for polling to determine his successor.
Reports indicate that police have been deployed to several locations in Kampala, including the homes of key opposition figures.
New Vision quotes police spokesman, Fred Enanga, explaining that "Our intelligence indicates that the opposition leaders have a plan B of marching from the Supreme Court to the central business district after the ruling. We have deployed to avert any disruptions to the normal flow of business."
In the past, Ugandan security agencies have been criticized for their heavy handed approach to dissenters who take to the streets to voice their complaints.
Photo/Nation Media Group: The Lord Mayor of Kampala, Erias Lukwago, in his office.