Mombasa Police foil Terrorist Plot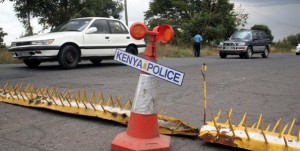 Police in Mombasa have intercepted a vehicle containing two explosive devices in the coastal city of Mombasa on Monday.
According to a report by Capital FM, two suspects (one Kenyan and one Somali) were apprehended with the vehicle as they drove into Changamwe.
The suspects are believed to have been on their way to complete a sinister order from al Shabab's top commanders.
The thwarted attack increases the importance of the warnings by several Kenyan officials about an impending attack in Mombasa by the terrorists.
Reports indicate that armored tanks have been deployed to the police headquarters following the failed strike.
Mombasa County Commander, Robert Kitur, has told the press that the two men, who have since been sought by Kenyan authorities, were found "after they communicated with their colleagues in Somalia."
The coastal city has experienced heated exchanges between law enforcement officers and radical Muslims in the past few years, as the government attempts to curb the spread of Islamic extremism.
The death of two renowned clerics – who were categorized as radical by the authorities but much loved by large sections of the Muslim community – had laid the foundations for enmity between the authorities and the Muslim community in Mombasa.
But things reached a boiling point when police invaded the Masjid Musa on Feb. 2nd and arrested several suspects.
Officials say they had received information that the famous mosque was being used to spread radical ideologies and as a recruitment ground by al Shabab.
Although, the arrested worshipers have since all been released, reports indicate that the state of security in the coastal city is still quite tense.
Last week, a famous Muslim leader and ideological opponent to one of the late clerics was reportedly stabbed by angry youths believed to have come from the Masjid Musa. Sheikh Ali Ahmed Bahero has since been admitted to a hospital where he has undergone surgeries.
Recently, the governor of Mombasa, Ali Hassan Joho, expressed concerns over the growing state of insecurity in the county. He vowed to drastically improve the situation by stamping out terrorism.
The increasing number of terrorist attacks in Mombasa is reportedly beginning to have a negative effect on the city's tourism sector, which is the heart of Kenya's tourism industry.
Photo by Anthony Kamau/Nation Media Group.