Ethiopia's Premier calls for Deployment of Regional Forces to South Sudan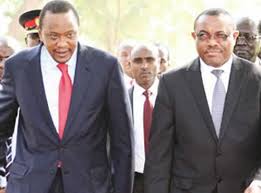 Ethiopia's Prime Minister Hailemariam Desalegn has called for the deployment of a regional peace keeping force to South Sudan to be hastened.
He made the statement at a meeting with Kenya's President, Uhuru Kenyatta, during a rare visit by the neighboring leader to Ethiopia.
"It will be very bad to have a failed state again in our region," he said.  "So we urge the international community to respond as quickly as possible to our requests so that we rescue this country."
Thousands of lives have been reportedly lost and almost a million displaced in the fight which has lasted for nearly three months in South Sudan – the world's youngest nation.
Several East African countries – including Kenya, Ethiopia, Rwanda, Djibouti and Burundi – have indicated they are ready to send troops to South Sudan.
IGAD, the prominent East African bloc, is mediating negotiations between the government and rebel forces in Addis Ababa.
But despite the signing of a cessation of hostilities agreement in January, fighting continues and the talks are making little progress.
The two leaders also discussed the state of the politicians who are set to go on trial in South Sudan.
President Kenyatta  said finding an acceptable solution to this issue is key to resolving the crisis.
"As part of our own IGAD framework, we had indicated that we would want to see ourselves work towards the release of the four to join the seven and everybody else in finding a political solution to the crisis, and that is a process we are continuing with Juba," he noted.
President Kenyatta is scheduled to remain in Ethiopia to attend the IGAD summit in Addis Ababa.